Paralympian cyclist Emma Foy has won 15 World Championship medals across road and track, six world titles, two Paralympic medals and is the world record holder with Hannan van Kampen for the 3,000 metre tandem pursuit. She is in training for the 2021 Paralympics.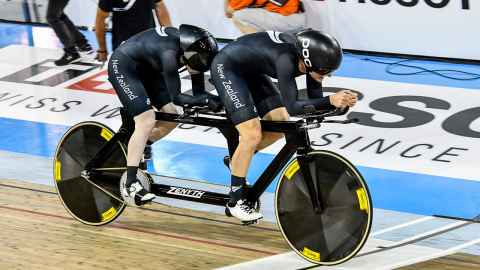 Emma Foy's Instagram profile reads: "Tandem stoker. Stripy jersey owner. Albino with attitude."
"Stoker" means she's the fast furnace, pedalling hard at the back of a tandem bike behind a "pilot" cyclist who can see. The stripy jersey? That's the wearable rainbow trophy bestowed on cycling world champions. Remarkably, Emma's wardrobe holds six such garments, won with two different teammates, five in the women's "B" (i.e. blind/visually impaired) 3,000m individual pursuit, and one in the road race. For the 3,000m, she and her current pilot Hannah van Kampen are 2020 world champs, and regularly break their own world record.
Emma's visual impairment was caused by ocularocutaneous albinism, but not being able to see the ball didn't stop her from playing soccer at primary school – just seeing the other players was enough to excel in defence.
Emma, now 31, grew up in Dargaville revelling in all the activities of her outdoorsy family, before transferring to O'Rourke Hall to start her Bachelor of Arts in Psychology at the University of Auckland. Psychology has remained an active interest.
"The general learning you can apply to a lot of things; it gives you a basic understanding of people and yourself," she says down the phone from Cambridge. She's recently delved into memoirs by psychology professionals who survived the Holocaust: Edith Egar's The Choice, and Victor Frankel's Man's Search for Meaning.
She also studied sociology. "That broadened my thinking in regards to the world and my place in it, as someone with a visual impairment, and the need to make space for people with differing needs."
Emma groans when asked about the legend of how she discovered stoking: "I mentioned that just once in an interview, and now it's in every article!"
She was instructing a spin-class in Howick when a class member suggested she take up para-cycling. It's a classic story – all that success, hinging on a chance friendly suggestion in suburban obscurity! But Emma clearly sees it as unimportant – she would have discovered para-cycling in any case. Still, her relatively late introduction highlights the low profile of para sport. Emma is pleased that, unlike herself, many children now have the opportunity to take part in para sport but she points out there's room to improve.
Apart from a year or two studying law, para-cycling has remained Emma's key focus over the past eight years. Thanks to funding from High Performance Sport NZ, she and Hannah are currently training fulltime, six days a week in preparation for the rescheduled Toyko Paralympics in 2021. The pair are aiming to better Emma's 2016 Paralympics silver medal on the velodrome and bronze in the road race, won with now-retired pilot Laura Thompson.
During the March lockdown she at least had a decent set-up at home.
"We did a maintenance and general conditioning phase while in lockdown in my flat in Cambridge. Lucky for me, I live with three other athletes so we have set up quite a well-equipped gym in our garage. We did erg sessions on the bike or rower together.

"The Covid-19 pandemic has really turned the sporting world upside down and things remain fairly uncertain," she says. "Right now, like many athletes, we are training as normal at home but can't really say how the next year or so will look."
Determined and thoughtful, Emma appreciates being expected to stretch her goals.
"I need people to expect me to be very capable, to expect more of me," she says. "Low expectations [due to disability] are a barrier to success that's often quite invisible, but it's there."
The flipside is that far exceeding expectations is satisfying – and not just for herself.
"When I am working alongside able-bodied cyclists and they can see how well I can do it, I am changing people's perception of those with disabilities a little bit. It's really good in such an able-bodied setting – high-performance sport – to have people with disabilities thrown into the mix."
Involvement in para sport also gives coaches "an awareness that all people are different, not just those with disabilities," says Emma. That "big learning curve" can lead them to more accurately fine-tune individualised training for all their athletes, including those without disabilities.
Meanwhile, Emma, quietly delighted, keeps setting new world records with every 3,000m personal best. Tandem stoker. Stripy jersey owner. Laser focus.