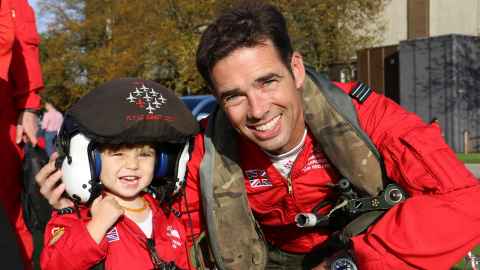 Growing up, Emmet Cox knew he wanted to be a pilot – just like his grandfather and his uncle. What he didn't know was just how far his aviation career would eventually take him.
A keen snowboarder, he also developed an interest in photography and found a clever way to combine the two, allowing him to travel and earn money at the same time.
"Dad was a newspaper photographer and got me interested in photography while I was still at school. I was able to complete snowboarding seasons first in Japan and then twice in the USA; paid for in part by the photography work I was doing while I travelled."
Feeling he needed a back-up plan, Emmet decided to enrol in a Bachelor of Science degree majoring in Computer Science and after graduating initially worked as a software developer for a short period.
Having been turned down twice by the RNZAF it seemed his back-up plan had been prudent but his resolve to become a pilot hadn't gone away. Perhaps it was time to try another option.
Moving to the UK and applying to join the RAF would prove more successful than his earlier experience in New Zealand.
He completed his Basic and Advanced Fast Jet Training on the Tucano at 72(R) Squadron, RAF Linton-on-Ouse and the Hawk T1 at 208(R) Squadron, RAF Valley.  He then undertook Tactical Weapons Training on the Hawk 115, based at NATO Flying Training in Canada. Emmet was subsequently posted to RAF Lossiemouth to fly the Tornado GR4.  
Selected to become a member of the famous 617 Squadron (The Dambusters) flying missions over Iraq as part of Operation Telic, Emmet participated in exercises and weapons trials throughout Europe and North America. Emmet says the experience demanded a lot from everyone involved, but was tremendously rewarding.
"I felt honoured to have done the flying I had, but even more special was having worked with such a fantastic group of people both in the air and on the ground, many of whom became lifelong friends. With that in mind I was keen to contribute even more in what remained of my military career."
Somehow finding time to continue his passion for snowboarding, he would subsequently go on to become an instructor in the sport as well as representing the services at the British Championships in 2011.
But in 2014 an opportunity would emerge that would place Emmet amongst the world's most elite pilots when he was made eligible to become part of the revered Royal Air Force Aerobatic Team – The Red Arrows.
Emmet spent three years in the team and completed hundreds of public air displays within the UK, Europe, the Middle East and Asia.  Memorable highlights included flypasts celebrating the Queen's Birthday and the 2015 Rugby World Cup Final.
Retiring from the RAF in 2018 after fulfilling the terms of his commission and moving to Hawaii to become a First Officer with Hawaiian Airlines, Emmet says the change made sense to be able to spend more time with his wife and young family.
"What I feel is most important about my time with the RAF is what I have learnt about myself. The military is very good at exposing personal strengths and weaknesses and it brought out the ability to be introspective and constantly self-analyse your performance.
To become aware of your own failings and be honest with yourself is the only way to truly improve. In the Red Arrows we used to say - there is no such thing as the perfect show, we strive for perfection, yet know that we will never attain it. When you think about it, this also carries over to everything in life as well."