Founding Partner - Young Shipping Company.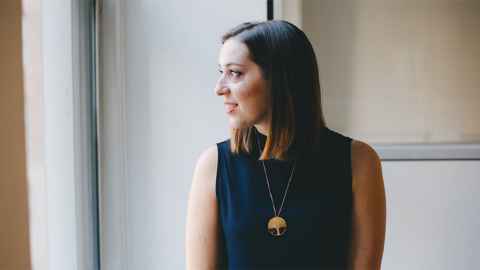 American author, political activist, and lecturer Helen Keller who became the first deaf-blind person in the U.S. to earn a Bachelor of Arts degree in 1904 famously said "Life is either a great adventure or nothing."  For Esther Young, Helen Keller was her inspiration.
Growing up dyslexic and fortunate to have the support of her mother who was a strong advocate for her three children, Esther says she made sure they were not held back as a result of their condition.
"At the time dyslexia was not particularly well known and it was often difficult getting extra learning support at school. However I persevered and eventually discovered my love of history."
Completing her final year of high school as a Rotary Exchange student in France, fulfilling a promise to her parents at the age of four when first visiting the country that she would return, she arrived barely speaking a word of French and found herself paired with a family who barely spoke any English.
It was a good 'sink or swim' challenge for the young teen who credits watching episodes of the American TV series 'Little House on the Prairie' dubbed into French as helping her to learn the language.
"At the end of my time in France I really didn't want to leave. I had become fluent in French and had travelled around Europe and the prospect of having to return to NZ was not something I was particularly keen on."
Eventually finding herself back on home soil, Esther informed her parents although she had spent the past year saying she wouldn't be going to university telling them instead she would either be joining the police or the army, sensibility got the better of her and she decided to apply to university on the chance she could get in.
After being accepted, an arts degree seemed to offer a new challenge that she was finally up to taking on, eventually completing her BA with a double major in History and Politics.
After a stint at Auckland's Economic Development agency ATEED working on the 2011 Rugby World Cup, another opportunity emerged to undertake post grad study at UN University Tokyo, completing a post graduate programme in International Peace and Security.
"It was an amazing course with a diverse range of participants. We had diplomats and senior officials speak to us on the rights of individuals, specifically internally displaced peoples; an area I had always been particularly interested in studying."
Returning to Auckland and not finding anything on the job front that grabbed her attention as well as being inspired by her father, who despite his dyslexia had completed a Masters in Engineering, Esther took the plunge, and decided to continue with her studies embarking on a Masters in Political Studies. Completing a thesis focusing titled: Human Security for Internally Displaced Persons, The case of the Philippines, she regards the experience as a personal milestone.
Then in 2013 it was off to New York after her husband decided to launch a technology company in the Big Apple and with it the prospect for Esther of perhaps a dream role working at UN headquarters. But after numerous attempts and the requisite coffees with UN insiders it wasn't to be.
"I discovered I was a generalist when everyone else in the U.S. is a specialist. I had to rethink my options."
Seeking a new direction, Esther opted to join a leading start-up in the co-working space where she quickly found her niche.
Promoted to Chief Operating Officer (COO) after just 14 months, she says the role allowed her to focus on a growing area of interest; the fast paced world of business start-ups, where managing growth and scale at a rapid rate were prerequisites.
"Despite the chaos and the pace of work I found I had discovered a whole new area of interest , which in turn further fueled my interest in angel investing (early stage investors who back small start-up businesses with both capital and expertise.)"
Taking the plunge and establishing her own angel investing fund, Young Shipping Company in early 2018, focusing on start-ups in the social good and the media technology sectors has been particularly rewarding...
"I feel like this is the perfect sweet spot for me right now, but it's not at all how I expected my career to turn out. I have always had a keen interest in international politics and human rights as well as volunteering for organisations such as Rotary and Oxfam. However my work experience has been in the start-up and economic development worlds.  Now I have ended up working in and directly alongside start-ups and am now connecting both worlds - technology and social good. I never imagined myself here but I love what I do and wouldn't change it for anything."