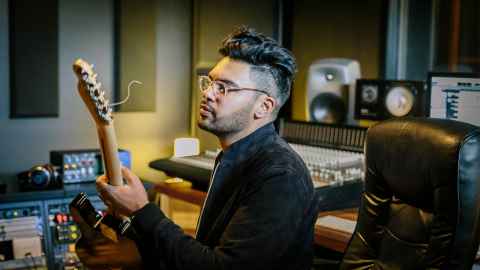 When Gavin Correia was told he was being kicked out of the West Auckland metal band he enjoyed being a part of as a teenager he asked the obvious question: why?
The answer came as something of a shock for the ambitious young teen when he was told by his fellow band members that he hadn't been putting enough time into writing.
While he couldn't bring himself to admit it at the time, deep down he knew they were right.
The incident would mark a turning point in his life and also prove to be one of those important life lessons we learn from time-to-time.
Rewind 10 years and life had been very different.
Growing up in India, playing cricket, receiving a good education and living a "comfortable life" his parents' decision to emigrate to New Zealand came as something of a shock to an 8-year-old who already felt he had everything he needed in life.
"My parents decided to move to New Zealand to give my older brother and me greater opportunities in life. This was despite the fact that they had created quite a nice life for themselves in Mumbai - they still were prepared to sacrifice all of that for us."
Arriving in New Zealand in 1997 Gavin admits it took him a few years to adjust.
"At first I found it quite hard. I came from a place where after school I would play with about 20 other kids from the neighbourhood, to having no friends and having to start at square one. It can be quite hard to break in when no one knows you."
A good student, but admitting that he didn't exactly "push himself" particularly hard or take himself too seriously, he slowly began to "find his groove" and at 13 started learning the guitar while also signing up for violin lessons.
In the end, the guitar won out and Gavin says he quickly found his calling.
Going on to win a talent quest in his final year at Liston College and being named Dux (as well as being Head Prefect), Gavin says he had learnt how to balance his life between "cricket, music and schoolwork."
Law seemed an obvious choice for someone who loved debating, conversation and arguing and it wasn't long before those long hours in the Law School library became a regular feature of daily life.
Securing a prestigious Russell McVeagh scholarship and readily admitting that he "loved his time as a law student", life seemed to be all mapped out as he began to tread that well-worn path towards becoming a corporate lawyer.
The problem was that during his final year at university and while serving his time as an intern at Russell McVeagh something didn't seem quite right.
"It was hard for me to admit it to myself at the time, but I knew what I was doing just wasn't me and as I looked out on the magnificent view from the 30th floor of the Vero Building where I worked I knew I wanted to be out there, somewhere. The question was: doing what?"
Reflecting on his decision to bring an end to his law career before it had really even got started Gavin is philosophical.
"Once you have the intention to do something things have a habit of falling into place."
The first piece to fall into place was meeting up with fellow student and future collaborator Marty Rich.
"I used to throw these big Law school parties and Marty would always try and sneak in (he was studying to become a chiropractor at the time.) But he'd always be really nice and polite, so I'd let him in. Some of our mutual friends had told me he was a music producer so one time when he tried to get in I was like - hey we should jam a bit and he was like - ahhh yeah…and the rest as they say is history."
Like Gavin, Marty was also a migrant having moved to Perth from Tanzania before moving to New Zealand to study. After a few sessions working together the chemistry was obvious and Jupiter Project was born.
Fast forward to today and the duo have shared the stage with some of the biggest names in the music business including DJ Snake, Netsky, Will.i.am, Jessie J, Jason Derulo and many others.
Gavin is also a two-time gold selling artist and has become one of the country's most prolific songwriters having penned a number of Top 10 hits with over 100 million streams globally.
Forming their own independent music label and artist management agency in 2016 has been their way of giving back to the local music industry which helped them get their careers underway.
And it seems those studies have been put to good use after all…
"While I didn't end up pursuing a career into law, I have never regretted my decision to study it. I gained valuable skills that I use almost daily as a business owner and for the most part, I have negotiated and amended every single recording contract that we have ever signed."
When it comes to defining his biggest learning along the way, Gavin says it's not what you do but what you give.
"I've learnt that life has many successes and failures, but ultimately none of them will define who you are as a person. What defines you is how you treat others – how you carry yourself and what you do to help make other people's lives better. Money, fame and accolades are insignificant in comparison."