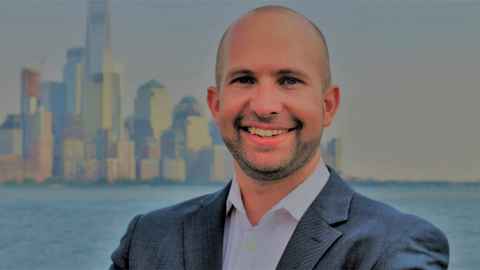 Completing his first degree in accounting, but not entirely sold on the subject, Geoff Cooper's decision to travel to Boulder, Colorado in 2006 was to prove fortuitous.
Seeking some time out and eventually finding work in a not particularly busy local café which he recalls gave him plenty of time for reading, it was a bookshop conveniently located right next to the cafe that would change his entire career track. Stumbling by chance on the economics section, it wasn't long before Geoff was devouring every book on the subject they had in stock and a decision to return to New Zealand to begin a second degree in what he says had now become his "first love" was quickly confirmed.
Graduating with a Master of Economics with First Class Honours in 2011 to add to his undergraduate degrees in science and accounting, he recently completed a Master of Public Affairs from Princeton University. He says the appeal of economics is both its breadth and its diversity.
"I like the way economics helps you to think strategically. It's a subject that continues to evolve and I believe the task of an economist is to translate and communicate what's happening rather than to simply crunch the numbers in the background."
Economists frequently speak of the benefits of creative destruction, but the discipline itself rarely undergoes the same process. So when leading American-Israeli psychologist and author Daniel Kahneman was awarded the Nobel Prize in Economics in 2007 for a revolutionary take on the dismal science, Geoff say he was enamoured.
"We don't need to treat all individuals as rational, normalized agents in clunky mathematical equations - we can do better. His book Thinking Fast and Slow is a terrific challenge to the profession and never far away from my desk. I was lucky enough to learn from Professor Kahneman directly at Princeton University, through the course he designed at the Woodrow Wilson School of Public and International Affairs."
Prior to leaving Auckland to continue his studies in the U.S., Geoff spent four years as Chief Economist for Auckland City, a role he says offered plenty of professional challenges resulting from city's rapid growth.
Recently securing a senior position at the United States Federal Reserve in New York, where he contributes to international banking and regulatory policy, focusing on Europe and China, he says his new role has taken on greater significance post the Global Financial Crisis. Unlike most students who want to complete their degrees as quickly as possible and move on, Geoff says he actually found it difficult leaving university.
"New ideas, activities, and questions always waiting to be picked off and debated with professors and classmates, I was so fond of the institution. I ended up staying for almost a decade in various roles: student, researcher and tutor. The professors are exceptional and later in life became trusted advisors, advocates, and mentors."
In an international career that has provided plenty of learnings along the way he says he has come to realise that Google will never replace knowledge in its purest sense.
"Knowledge matters more than ever. It is not only a driver of creativity and social progress, but an essential process for eliminating the distraction of useless information."