Hamish Elmslie had been enjoying a successful career at the Bank of New Zealand when a dinner with Richard Branson and a University of Auckland Masters course changed his direction entirely. He has since become one of the founders of Wine Grenade, an Internet of Things (IoT) wine maturation technology that is used around the world. He is 35 and lives in San Francisco.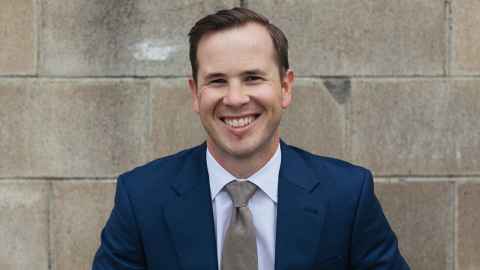 It helps to have relentless optimism and perseverance if you want to go from a niche idea to a technology used in the production of two million bottles of wine and spirits every year.
It also takes an innovative thinker and Hamish Elmslie, formerly of the Manawatu, is definitely one of those. As senior delivery manager and then head of projects at the Bank of New Zealand, he was responsible for overseeing a slew of technological transformations.
However, his entrepreneurial imagination was fired during a dinner with Sir Richard Branson at the Viaduct Events Centre during the Rugby World Cup. Okay, there were around 1000 other people there, but sitting next to Sir Richard and meeting other successful entrepreneurs cemented Hamish's desire to build something new from the ground up.
"He was incredibly personable and approachable, despite all of the success he has achieved in life," says Hamish. "Like most entrepreneurs, he has experienced his fair share of failures along the way. But his ability to forge ahead, often into unfamiliar territories, with the utmost of confidence in his ability to challenge the status quo really resonated with me."
Hamish's pivot from delivering software change and "process optimisation" in the financial services industry to building a hardware product in the wine industry didn't happen overnight, however. He discovered the university's Master of Commercialisation and Entrepreneurship course, "which is designed primarily to equip people with the tools and know-how to take IP from a lab and develop it into a commercial offering."
It gave him the "knowledge, tools, frameworks, context, network and confidence to pursue a venture of my own." It's also where he met the co-founders of Wine Grenade and where they were introduced to the intellectual property (IP) that is the foundation of the technology.
"The IP is a novel way of releasing gases at a linear rate over a long period of time. Despite how niche that sounds, the only limit to the number of possible applications for this kind of tech is your imagination."
Wine Grenade also won the Centre for Innovation and Entrepreneurship's Velocity $100k Challenge, which gave them access to mentors and the funding to keep going.
"Both the Masters degree and Velocity tapped us into New Zealand's start-up ecosystem, which was a huge benefit," says Hamish. "Having access to experts from within the uni as well as other organisations like the Icehouse, Plant & Food Research, Callaghan Innovation and NZTE, really helped accelerate various aspects of developing a product and launching and growing a business."
Hamish believes now that Wine Grenade is his greatest accomplishment.
"Inventing and launching a product that challenges generations-old incumbents in an industry steeped in tradition and going on to see that product being used in most of the world's major wine markets is something I'm very proud of.
"I also summited a 6000m volcano in Peru a few years back. That was pretty cool, too."
Having recently stepped back a little from Wine Grenade, Hamish's immediate future involves fulfilling a lifetime dream of taking a road trip across America. Once he and his wife have restored a classic 1980s GMC campervan, that is.
He thinks they will then head back to New Zealand. "I'm really interested in returning to my roots and exploring something at the intersection of tech and financial services."