Last year, Hannah Hong founded her own skincare range, Lemon & Beaker. It was a meaningful point on a journey that began for her as a teenager entranced by skincare products, through a double major in Chemistry and Psychology at the University of Auckland and foundational personal and business experiences in the Middle East and Asia. Now, she plans to take her New Zealand business to the world.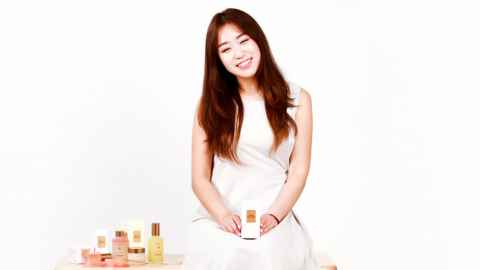 Like many young entrepreneurs, Hannah Hong grew up with enterprise in the family, watching her father grow his small retail store into an international business and paying attention.
"My dad taught me a lot of financial knowledge," she says. "He always says that unless you have a great idea or product or service, you end up having difficulties with the financial position. He taught me a lot of ways of not taking a risk, making a stable business. How to finance business, how to be conservative for risky situations."
But when she left Seoul, the city where she was born, at the age of 13, it was up to her to put those lessons in practice. Her first New Zealand education was at boarding school in Taumarunui, where she learned English "really fast". From there, it was Epsom Girls Grammar, where her career dreams took shape.
"I used to go to Smith & Caughey's after school and try all these skincare testers and perfumes and I just fell in love with skincare. I loved the packaging, the textures and everything and I just wanted to make the best skincare for ladies. I wanted to make a natural product that looked good and felt good and smelled good – and that actually worked."
Opting to study chemistry at the University of Auckland was a key step in getting there. Her other major was Psychology. She learned not only about creating her dream products – but how to sell them.
"I wanted to get into people's minds!" she quips.
From there, it was a leap to Dubai and a job with a company that managed international brands like H&M, Victoria's Secret and Debenham's across the Middle East and North Africa. Although she relished the diversity ("I just really enjoyed working with different people with different backgrounds, different religions, different knowledge"), duty called when her father became seriously ill and she returned to South Korea to help run his business interests. That, too, became a learning experience.
"It wasn't something I planned, but I felt, you know what, maybe I'm learning something here. I had no idea about the trade, I had no idea about negotiations and all that and learned all these business skills, which I could utilise later for Lemon & Beaker.
"So I see every path as an opportunity, I don't see them as, 'why am I here?', I am thinking, 'what can I get from this experience?''"
She says the choice of returning to New Zealand to start her own business was an easy one. She missed her friends – many of them from her time at the University of Auckland – and the environment. Lemon & Beaker is already growing (an out-of-the-blue endorsement from Korean film star Clara Lee helped) and she wants to be operating in Dubai and the US by next year. In five years, she wants Lemon & Beaker to be "a stable, well-organised, international brand."
And that's not all.
"I'm actually happy with myself right now, as I have achieved what I have been dreaming of since I was 17 years old. The people I met and the experiences I had during my times at Epsom Girls Grammar School and Auckland University have made me the confident woman I am today. I feel like I can do so much more than what I have done now, so I'm planning to more diversify my business in the near future."