Howard Hunt is co-founder of HERE®, a social enterprise creating self-help mental health programmes for corporations, at-risk communities and staff on the front lines of trauma including victims of violence, refugees and other mental advocacy groups. HERE has pioneered an interactive meditation platform and has developed content specifically for Covid-19 First Responders.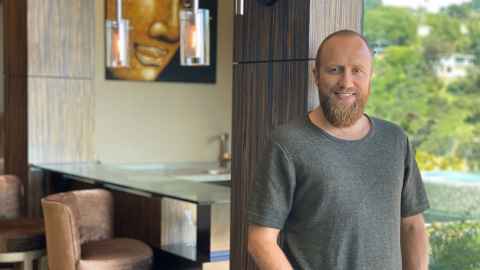 Ask Howard Hunt to name people who have influenced him and among three, he lists his former wife.
"The pain of our failed marriage was a poetic turning point," he says. "I had to face my critical shortcomings through a process of great personal growth." Of the many lessons, "I became acutely aware that my constant focus on the future takes away from being present in the moment".
Understand this and it's easy to see why the University of Auckland BCom graduate, now Los Angeles–based social entrepreneur, is developing a new health service combining meditation practice with interactive exercises to restore peace and wellbeing.
Deeply curious about the human experience, Howard says, "For years I explored a broad range of topics, including neuroscience, quantum physics, our mind-body connection and people's belief systems. Meanwhile, meditation had become a critical tool to manage my own stress in the corporate world, all of which translated into launching a wellness start-up with peace-finding at the core."
HERE was officially launched at the end of 2018, with HERE founder, CEO, author and clinical psychologist Dr Laurie Ann Perlman, known for her books and exclusive trauma treatment center in Los Angeles. Over many outcomes observed as a therapist, Dr Perlman concluded "spiritual interventions were the most enduring".
"So HERE was designed to be trauma-informed," explains Howard, "harnessing insights from neuroscience and psychology, alongside contemplative practice to ease human suffering and build emotional intelligence".
Since launching, HERE has piloted a successful program for corporate wellness in the US, and a program for victims of gender-based violence in Kenya. In December HERE was invited to join a Vatican-backed initiative providing interventions for refugees. HERE has also been providing technology to US hospitals throughout Covid-19.
Howard graduated with a BCom in international business, management & employment relations in 2004 and says the University of Auckland "really helped me build a solid technical foundation, while identifying my natural affinity for marketing and entrepreneurship".
He then joined The Hyperfactory – a New Zealand start-up that became the most awarded mobile marketing agency in the world.
"That decade-long journey with The Hyperfactory took me from Auckland to Hong Kong to New York and through acquisition by publicly-traded Meredith Corporation. Along the way I managed relationships and digital product development for dozens of Fortune 500 brands including Johnson & Johnson, American Express and Kraft Heinz."
Howard learnt another of life's key business lessons from The Hyperfactory's Geoffrey Handley, who used to say, "you will never have all the information, so stop planning and start doing".
But after 10-plus years of building a career in one direction, he decided that, "rather than stay comfortable as a senior marketing executive, it was time to cast off and breathe life into growing aspirations to explore new areas".
Passionate about the good that technology can bring to the world, Howard describes HERE as a "science-led, stress-busting, self-help hero on a peace mission".
Of the future he says, "I recognise our inner world is truly the final frontier.
"We all battle stress, anxiety and past hurts, so helping people to tune in and master their inner realm is critical to building a brighter, more resilient, harmonious society."