Imche Fourie is CEO of Outset Ventures, Aotearoa's largest science and engineering venture incubator. She is an executive council member of BioTechNZ, which provides representation, connection, advocacy and support to New Zealand's biotechnology industries. And she is also a rangatahi advisor to the Science for Technological Innovation National Science Challenge, leading the development of a programme to engage more young researchers to champion their own projects.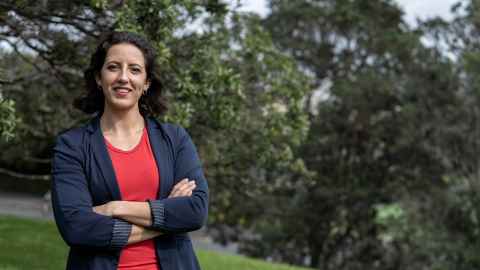 "Sometimes all a great idea needs is a little bit of space, investment and a community of other slightly mad scientists."
That's the word from Imche Fourie, chief executive of Outset Ventures, a deep technology start-up incubator where entrepreneurs can grow their groundbreaking science and engineering innovations.
Previously the birthplace of Rocket Lab, LanzaTech and Mint Innovation, Outset Ventures is based in Parnell, Auckland, and houses commercial laboratory and workshop facilities, a six-month pre-incubation "Launch Lab" programme, and an $11 million deep tech fund, raised with Icehouse Ventures. This will back 20 to 30 ventures over the next three years and is overseen by an investment committee that includes Peter Beck of Rocket Lab.
Deep technology describes technology based on fundamental scientific advances or engineering innovations, rather than digital or software technologies. For Imche, deep technology is "the closest we have to a superpower".
"It gives us a suite of tools to turn fantastic ideas into real change."
Imche's background is in biotechnology. After an undergraduate degree in Biotechnology and a postgraduate degree in Bioscience Enterprise, she worked on neurodegenerative diseases as part of a team at the University of Auckland's Centre for Brain Research (CBR).
"I loved the science, loved the team, loved what we were doing, but I disliked being in a lab," she says. "It was just not my jam."
In December 2017 Imche became the chief executive officer of Chiasma National, a nation-wide student-led organisation that encourages innovation by fostering connections between STEM students and the wider industry.
Chiasma fuelled Imche's desire to work at the intersection of deep technology and venture capital giving researchers what they need to thrive, rather than being in the lab herself.   
She could see an opportunity and in 2018 Imche co-founded LevelTwo which has now morphed into Outset Ventures.
Today, the Outset Ventures portfolio includes Astrix Astronautics, which is developing power systems for small satellites; HeartLab, an artificial intelligence company for cardiologists; EnergyBank, which is developing large-scale electricity storage technology; and Helico Bio, a company aiming to produce pharmaceuticals from plants.
"I would love to see the companies we're investing in now becoming as big and important to the technological landscape of the world as Rocket Lab is today," says Imche, "and for us to be a part of that journey in a meaningful way."
She acknowledge she has moved quite far in her career from doing actual science.
"But the understanding I gained  (at university) of what it means to do science allows me to make much better decisions on venture investments in the science and engineering fields."
She remembers her time at university participating in, and eventually running, some of the student clubs and organisations, and how this taught her networking and management skills she now uses in her career.
"I cannot recommend enough that students look beyond GPAs to measure their success while at university."
As well as her Outset Ventures work, Imche is an executive council member for BioTechNZ. She sits on a number of investment and grant committees, is a mentor to several young entrepreneurs and is a rangatahi advisor for a National Science Challenge. She supports women in tech events and was a 2018 TEDxAuckland speaker.
Reflecting on her success, Imche says she has learnt "that saying yes to opportunities you feel a bit underprepared for is such a great way to lean into discomfort and learn new skills".
"And never underestimate the power of kindness!"