Director, Specialist at Christie's London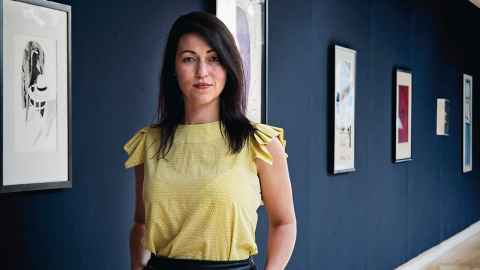 For Imogen Kerr, growing up in Taranaki was about as far from the cosmopolitan world of the international art trade at Christie's as it was possible to get.
A keen student who was basically "into everything", her early exposure at high school to subjects such as Art History, Classics and English Literature would begin to mark her out as someone destined for a career in the Arts.
Imogen says two teachers in particular stand out as being an important part of that journey.
"Simon Kaan was a well-regarded painter who was a pretty 'cool' guy. He had an abundance of patience for teenagers, an open mind towards personal style and an exceptional sense of humour that really made the classes enjoyable and explorative. Claire Hall was unanimously loved in her kingdom of Flight House. She was inspirational, providing kindling for young minds with her great passion for Art History and a beautiful and creative means of communicating her subject. She also cared deeply about her students."
Enrolling in her first year in a Bachelor of Arts degree and then in her second year deciding to switch to a conjoint, adding on a Bachelor of Fine Arts, Imogen says Elam encouraged students to explore ideas and try things out.
"The motto of my primary school was 'learn by doing' and that suited my learning style very well. Funnily enough, it remains the case for me now; I need to be able to physically, vocally and actively engage with a topic to fully work-through and understand it, to retain the information and test it experientially through practice or debate. Elam gave me the space to do this."
At Elam another group of influential mentors and tutors would also make an impression.
"Peter Shand, Judy Millar, Peter Robinson, James Cousins and Denys Watkins all taught me there's no one way to communicate, not one way to be a great thinker and a creative artist. I have taken those important learnings with me throughout my career."
Working at various galleries after graduating, including a period at Webb's, the opportunity to work for Christie's is the ultimate dream job for any art lover.
"I loved the auction realm, having earned my stripes at Webb's, and being in the wondrous metropolis of London, it had to be Christie's. To get my foot in the door, I applied for a job as an administrator, something I knew I could do well having worked across admin, cataloguing and registrar roles in New Zealand. I got the job in December and it was the best Christmas present I could have hoped for."
These days Imogen is Director, Specialist at Christie's London in the Impressionist & Modern Art department also with responsibility for her department's contribution to Christie's 20th Century & Contemporary Art auction in Shanghai.
It's a busy role that has her travelling the world to support sales in Paris and New York and inspecting collections in some very impressive locations.
But in the months leading up to an auction she admits the pace is "frenetic."
"Our busy seasons for auctions in London are February/March and in June. I am very fortunate to see some of the most extraordinary works of art during the course of my daily life. Some people keep paintings for life while others find their focus changes and develops as it goes along and it's our role to assist in the management of those collections, selling when the time is right, providing information and assistance to buyers."
Of course, no two auctions are ever the same and Imogen says she particularly enjoys and promotes creative approaches to sale curation.
"Curating art is an important element of what we do. We are interested in the intriguing stories and connections behind the works as well as their inherent value."
So where to next after you've worked for an auction house as famous as Christie's?
Not surprisingly, Imogen says she's in no hurry to leave anytime soon.
"It's obviously a great privilege and an honour to work at Christie's. For me the greatest challenge is to keep it fresh, always see it anew and embrace the unknown the further one progresses into any given profession. I enjoy working abroad and discovering how art and the art market exist elsewhere. We don't know what the future holds and must remain open to new possibilities. For me, home is where the art is."