Isuru Fernando is the Corporate Leader of Google's ambition to establish the Cloud and Artificial Intelligence in New Zealand. Before this, he was IBM New Zealand's first Chief Design & Technology Officer. He is a founding Executive Board Member of the New Zealand Artificial Intelligence Forum, and an advisor for the World Economic Forum on AI Ethics and Human Design.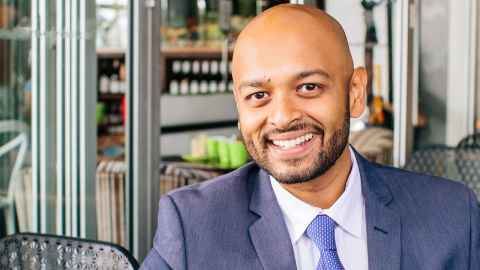 When Isuru Fernando's little two and half year old daughter, Ava, goes to bed and wants help to sing Twinkle Twinkle Little Star, she simply calls out, and like magic, the lights dim, the climate adjusts and the song is sung to her – and not by one of her parents.
For Isuru, who is at the forefront of Artificial Intelligence (AI) Design in New Zealand, the above is a tiny example of technology in action.
"I can't imagine my day without using AI," he says.
Working with NZ companies and Government, Isuru is looking at how Google AI & Cloud can be used to design human-centred outcomes. For example, hyper personalised accessible healthcare and 'thoughtful equitable banking.
"The key to solving business problems is to focus on the human problems," he says. "I believe it is possible to achieve both economic benefit and social good."
The Cloud and AI are also important for scaling our Kiwi ingenuity globally. "We used to realise an idea with 'number eight wire'. Now 'number eight wire' is our Cloud and AI capability and we can use that to make our mark on the global stage."
And on the global stage Isuru is a sought-after AI designer working with organisations like the IEEE (global organisation for advancing technology) to legislate regulation and create design principles that are used internationally.
One of the questions he is constantly asking himself is: what does the relationship between humans and machines look like? And how can we make it "a delightful experience"?
Even if we don't realise it, he says, we all already bond with machines. "Some people name their watches. Others will talk to their car when it breaks down. People form intimate relationships with their machines. We need to understand that when we create new technology like AI."
Isuru competed his Bachelor of Engineering and then Master in Economics degrees at the University of Auckland. While a student, he co-founded New Zealand robotics company Inro Robotics.
The career Isuru is in today did not exist when he left university. "I have often felt like I am standing on the edge of human understanding with a world of possibility in front of me."
He says technology and magic can sometimes be indistinguishable. This seems to reflect his upbringing where "from an early age my parents blended the worlds of Science & Maths with the worlds of Art & Music. I flowed seamlessly between these worlds – finding beauty in equations and finding intricacy in Art.
"I fell in love with the designs of Geoffrey Bawa & Ray Eames and consumed stories by Arthur C. Clarke."
His younger brother, who is a global humanitarian and emergency medicine doctor, currently on the Covid frontline, is a key inspiration showing him "that empathy is our foundation in understanding humanity. And it is something I bring to bear when I am creating teams, building businesses or researching how we as humans form endearing bonds or relationships with our machines."
As AI becomes more pervasive, Isuru says, it is important that AI is human-centric, and aligned with values and ethical principles that are inclusive, accountable and infused with trust.
And one thing's for certain, Isuru will be doing everything he can to ensure that happens.