Ivan Ravlich is CEO of California-based start-up Hypernet Labs, which is pioneering cutting edge cyberinfrastructure for researchers around the globe to run large-scale data analysis and simulation. Ivan is one of US Forbes' magazine's 30 Under 30 entrepreneurs for 2020.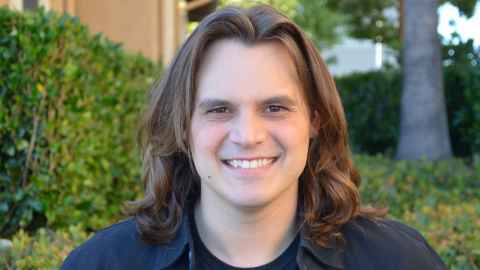 Ivan Ravlich was doing a PhD in Aeronautics and Astronautics at Standford in the US when he had an epiphany. 
"I was researching extended theories of gravity when I realised that the bottleneck of innovation in nearly every scientific field was the lack of available parallel computation." 
It didn't take long from there for the ambitious young scientist and entrepreneur to co-found Hypernet Labs, with the aim of making the start-up "the connective tissue between all computing resources around the globe".
Hypernet's first product, an App called Galileo, streamlines researchers computational pipeline and has users that include government agencies, space propulsion and energy companies.
For example, when scientists at Melbourne's Monash University recently began researching Covid antivirals to fight Covid-19 in the absence of a vaccine, they used Galileo.
This allowed them to run simulations of molecular modelling ten times faster than normal. Which means "we can study hundreds, thousands or even millions of compounds, which would be impossible to accomplish in a wet lab," says Dr Tom Karagiannis, who is leading the Monash research.
Hypernet Labs is currently focused on adding new features and expanding the capabilities of Galileo. The company recently raised $10 million and is using it to continue development of its technology, and to grow its user base. 
For Ivan Hypernet is a dream come true. "I always knew I would start technology companies," he says "but I didn't have any idea what for. I wanted to get into space travel research and head out there!"
"Starting Hypernet is one small step to further all sectors of science and technology with our mission of realising ethical, ubiquitous computing."  
A self-defined experimental physicist, rocket scientist and entrepreneur, Ivan says he learnt key skills from his parents. 
"My father is a Kiwi and moved to America to follow his dreams as an entrepreneur running his own mechanic shop and importing classic American cars back to New Zealand. He taught me what it means to persevere and seize opportunity. 
"My mother has done amazing things in her life, from persevering in spite of losing her father at an early age to being on the first kidney liver transplant team as an operating room nurse. 
"She always encouraged my learning and development … pushing me to pursue my dreams in science and engineering."
Ivan was head boy at Keri Keri High School before enrolling at the University of Auckland in 2008 to study Chemical Engineering and Materials Science. While there he got a lot of exposure to critical thinking and ran his own research projects in ceramic materials and titanium production. 
"The focus on practical skills outside of the classroom, such as working at LanzaTech – an alternative energy start-up – gave me my first taste of start-up life and pushing boundaries."
From Auckland, Ivan went to Stanford to do a masters and then begin a PhD. The rest is history.
But though he is a high flying scientist who wants to change the world, Ivan also loves to play – literally. He has played the French Horn since he was a teenager, and is a singer in a San Francisco-based rock band. He also plays trumpet, guitar and is keen on ballroom dancing which he sees as benefitting his scienitific pursuits.
"My dance teacher at Stanford taught me a lot about experimenting, going with the flow and taking risks," he says.
"The art, form and philosophy of social dance is very conducive to creativity and expansion."