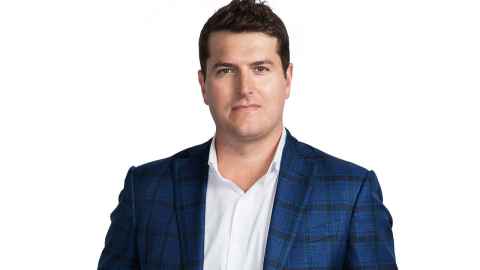 Born in Botswana, when Jaimes Leggett moved to New Zealand with his family at the age of 14 he'd never caught a bus before.
It was one of many experiences the young teen would have to learn as he adjusted to life in an unfamiliar country with a very different culture to the one where he had spent his early years. But he adapted quickly, as most kids do, even proving to be a top class rower in his final year at Rangitoto College.
Demonstrating an early knack for structuring an argument and quickly frustrating those who tried to take him on, Jaimes initially thought his career choice was obvious.
"Everything was pointing to a career in the legal profession but I had this creative side to me as well I wanted to explore so that helped to tip the balance."
Enrolling in a Bachelor of Commerce degree and going on to complete a Masters in Marketing and Management Information Systems, and later an Advanced Management Program at the London Business School in the UK, it was a chance conversation that was to prove pivotal in his choice of career.
"I was working in a bar in Auckland at the time and I got to know the then General Manager of the Dominion Post, Don Churchill, who was a regular patron. He told me I should get into advertising and connected me with Neil McDonald and Gary Urlwin the founding partners of UMC Advertising. They ended up giving me my first real job and showed me that creativity really does have the power to change the world. I was hooked."
After nine years in London, including four years as Managing Director of Ogilvy and Mather, the ultimate job interview beckoned to lead M&C Saatchi in Sydney. Meeting with the four partners, including the legendary Maurice Saatchi himself, Jaimes rose to the challenge and was offered the job.
Managing a staff of 650 employees and achieving compounding growth of 20% annually since taking over the role as Group CEO as well as recently being named the the Most Innovative Company in Australia by the Australian Financial Review, Jaimes says his time at M&C Saatchi is proof that you never stop learning.
"I credit Maurice Saatchi with teaching me the power of brutal simplicity of thought. The world is inherently complicated. Simple ideas enter the brain quicker and stay there longer. It's easy to say but hard to do – brutal simplicity of thought is a painful necessity."
While there are those who question the survivability of the traditional ad agency model, Jaimes remains optimistic.
"Every business in every market everywhere is being disrupted at the moment. Our challenge is managing our own business through that disruption, and defining what the future is. At the same time we have to help our clients manage their businesses in that same environment, so we face a dual challenge. In the end, it's not what you say as a brand, but what you do that defines you."
Having built his career working with some of the world's leading brands, he has some parting advice for those aspiring to take on leadership roles in the future.
"Honesty, integrity and authenticity are profound and powerful foundations in business. Take the time to know yourself – who you are and what you value. With that will come liberation, confidence and fun. And I would suggest success too."