Executive General Manager - Engineering & Architecture, Xero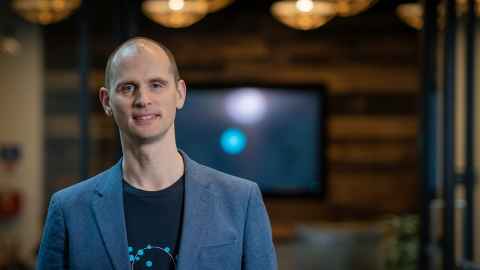 They say timing is everything and if technology is your thing then growing up in the 90s was the perfect time to begin riding a new wave.
For James Bergin, being a teenager when the internet started to take off in New Zealand and having a high school friend whose father was a programmer would prove to be a fortuitous combination.
A self-described "frustrated basketballer" and a budding amateur photographer, it was technology that would eventually prove to be his true calling.
"Growing up, technology quickly became more than a hobby for me. I started doing some very early programming and web design of my own, and one of my first jobs was selling gaming software at Harvey Norman. Fair to say, during my teenage years, I was completely in my element."
While the family was betting he would become a lawyer, James says it didn't take him long to realise he was actually destined for a career in IT.
Initially enrolling in a Commerce / Science conjoint degree, James subsequently decided to focus exclusively on information systems within the Bachelor of Commerce. It meant dropping the science degree after his first year to achieve the speciality he had deemed to be his "sweet spot."
It was during his second year at university in 1999 the world would become obsessed with a computing event dubbed Y2K. While it wouldn't live up to the hype of impending disaster predicted for computer systems unable to cope with the date function associated with the new millennium, it did prove to be a valuable learning experience.
"Unfortunately I was two years too young to be able to take advantage of it because at the time just about every IT grad was being snapped up to work as part of Y2K preparation teams."
Instead, a final year project working for The Warehouse would eventually lead to the offer of a full-time role which would bring James into contact with the company's founder Sir Stephen Tindall. It was a connection that would have a significant bearing on his leadership career.
"I was able to see up close the kind of leader that he is: humble, generous, strong and ambitious. His dedication and commitment to his family and the way he invests to make New Zealand a better place has always inspired me."
Moving on to ASB Bank, where a planned two-year stay turned into 14 years, James points to his work developing 'Clever Kash' – a cashless moneybox that blends digital and physical interactions to help children learn the value of saving as a particular career highlight.
"It isn't every day that you get to work on a global award-winning, patent-pending, world-first technology that was built from the ground up. Seeing something you helped create become real, and watching it used and loved by your own kids is pretty special.  After rapid take up in NZ, it's great to see it now being adopted in China."
The experience and insights he gained from the project would lead to James delivering a TEDx talk on teaching the values of money in a cashless society.
Appointed as Chief Architect at ASB Bank when he was just 33, James was an active member of the technology senior leadership team where he led architecture, strategy and innovation teams, and actively contributed to wider bank strategy and process transformation.
Now at Xero where he is responsible for Engineering & Architecture, James readily admits that before he was at university he barely knew the terms could be associated with technology.
"Architecture, engineering, innovation and strategy were terms I knew, but not things I thought were the keys to my career. I always wanted to work with technology, but for people. I even remember discussing this with a friend who was studying psychology and concluding that both our degrees were ultimately about dealing with the complexities of people."
At the mid-point of his career and reflecting on his twenty years working in IT, James recalls a valuable piece of advice given by the guest speaker at his graduation.
"It was pointed out to us that earning a degree was a great achievement, but that we should treat it as a first page of our career 'portfolio' and continue to add to that portfolio with new skills, credentials and experiences. It was good advice and something I have tried to do throughout my career."
A finalist in the Emerging ICT Leader of the Year Award in 2014, James was named Young Executive of the Year in 2016 at the Deloitte Top 200 Awards.