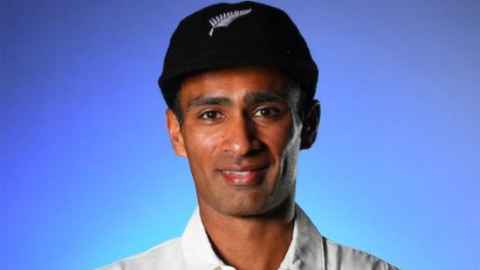 Playing cricket has always been more of an obsession than a passion for Jeet Raval.
Growing up in Gujarat, India where the game is treated like a religion, it was understandable that his every waking hour, when not at school or at home, was devoted to improving his performance.
So when his parents decided to migrate to New Zealand when Jeet was 16, his immediate reaction was predictable.
"I just couldn't understand why they would want to leave. I was perfectly happy. I had my friends. I was enjoying school and the thought of travelling to the other side of the world to a country I only knew about through cricket frankly didn't really impress me."
With his parents' minds already made up he soon found himself enrolled at Avondale College sitting in classes not understanding anything his teachers were saying as a result of not speaking any English.
It was frustrating for the young teen who would happily have traded anything to get back to his old life in India playing cricket with his friends.
But it was cricket that would soon provide Jeet with the bridge he so desperately needed to fit in to his new home.
Gaining selection for the school's First XI team, it didn't take Jeet long to impress both his teammates and his coach with his cricketing prowess, and he quickly gained selection for the Auckland Under 17 and later the Under 19 sides.
It was while studying towards his Bachelor of Commerce degree in 2009 that he received a call he had long hoped for: his first domestic contract to play cricket professionally for the Auckland Aces.
"It was a very demanding schedule for me. I was either studying or training and I really had very little time for anything else. One benefit of this was that it made me very disciplined and I certainly honed my time management skills at the same time."
2016 would see Jeet gain selection to play for the Black Caps on their tour of South Africa and Zimbabwe and make his international test debut against Pakistan later the same year.
The irony that, despite his initial reservations, moving to New Zealand probably enhanced his opportunity to play cricket professionally isn't lost on Jeet.
"When I was living in India I had many friends who were much better players than me but their cricketing careers never went anywhere, so the move to New Zealand certainly paid off."
Acknowledging his parents and the sacrifice they made for him, Jeet says their decision to leave India came at a cost.
 
"My father had a respectable job and a good income when we lived in India. Once we moved to New Zealand he could only find work in petrol stations while my mum was forced to work, for the first time, in a warehouse.  They gave up a lot to allow me to pursue my cricketing career and I'm very grateful to them for what they have done for me."
These days living what many people would consider the perfect work / life balance playing professional cricket for six months of the year and working as an accountant for the other six it's a combination that works well for both parties.
"The cricket off season for me happens to coincide with the tax season in New Zealand so I'm fortunate my employer gives me the flexibility to have the best of both worlds."
When it comes to his biggest learnings along the way, Jeet offers three pieces of advice he has tried to adopt in his own life:
Enjoy what you do. When my cricketing career wasn't going so well I told myself to play like I used to when I was a little kid when it was all about the pure joy and fun of the game.
Have a growth mindset where you are looking to improve each day rather than making excuses for poor performance.
In cricket, like many things in life, failure can be more common than success. The ability to overcome the failures through hard work is key.