Senior Civil Project Engineer - City Rail Link Ltd.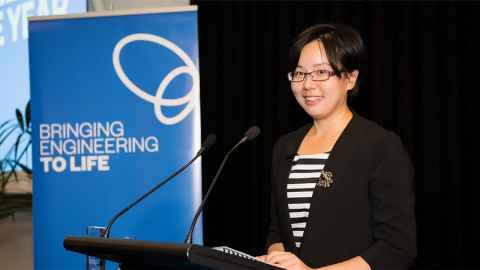 It was probably always a case of when rather than if Jenny Chu would become an engineer.
Named as this year's Engineering New Zealand Young Engineer of the Year, Jenny credits her father, also an engineer, as being a key influence in her decision to follow in his footsteps.
"I remember as a child visiting his office and hearing about all the exciting work that he did, how his work helps millions of people, and seeing the cool toys that he got to play with. It really planted a seed in my mind at an early age to become an engineer myself."
Completing her primary school education in Hong Kong, her family's decision to move to New Zealand was one that was to open new doors for the aspiring young engineer.
Enrolling at Westlake Girls High School and attending the Enginuity Day at the University of Auckland, which was designed to foster an interest in engineering amongst female high school students, as well as being able to attend science camps during the holidays sparked a curiosity about how engineering connected and influenced so many different parts of people lives.
Gaining a full scholarship and opting to do a conjoint degree in Engineering and Law, Jenny says both faculties offered programs with a wide range of classes that gave her plenty of freedom to choose her options.
"I got to learn from staff and academics who are major contributors in their field internationally and people who are passionate about sharing their work and knowledge. I also loved the diverse community that make up the student body on campus, with its myriad of interests, classes and work experience. I felt that I was surrounded by people who strive to be the very best at whatever they apply themselves to, and this pushed me to challenge what I know and defend what I believe in which in turn, make me a better person."
Working part time as a student with Dr Lesley Stone at the University's environmental and sustainability team within the Vice Chancellors office was a memorable highlight.
"It was an early lesson in understanding the importance of working across multiple disciplines and helped me develop a sound foundation in how I frame up my approach to work; particularly understanding the needs of different stakeholders."
Currently a Senior Civil Project Engineer at City Rail Link Ltd, Jenny says it's another landmark transport infrastructure project in Auckland since the construction of the Harbour Bridge more than 60 years ago.
Describing the project as "special," not only because it's technically challenging to build twin tunnels and stations in an intensely developed city centre, but from many perspectives it will have a profound impact on Auckland city, its people and what it will enable in the future.
"I'm grateful for the opportunity to be part of the team that is contributing to this legacy. Once it's completed Auckland will have a step change in its inner-city transportation system and associated development. Being able to work on such a technically challenging project with a fantastic team with a wealth of international experience so early in my career is such a great opportunity. "
While it's difficult to conceive a world without engineers and the positive impact they have, Jenny is committed to taking action to prove it beyond simply her day-to-day job. Her professional experience also extends to her non-profit work as a member of the Asia New Zealand Foundation Leadership Network, a board member of UNICEF New Zealand and co-founder of Engineers Without Borders New Zealand.
Established ten years ago it has grown significantly in membership and the number of active volunteers who have supported projects in New Zealand and in the Pacific. "The motivation to build a network of socially-minded engineers to provide equal access to engineering capability and leadership in New Zealand and the South Pacific was designed to enable communities to have access to the opportunities we do, so that they can lead a life of opportunity, free from poverty, and to provide student and young professionals a gateway to gain experience in humanitarian engineering.
I'm proud to see the pathways towards development enabled through our school outreach programme, design challenges, university research and community projects. I like that you can make a difference, no matter what stage of the career you are in – EWBNZ volunteers make a real impact to communities, and someone's life will become better because of their contribution."