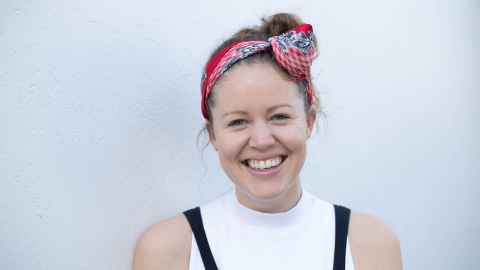 Some people are born supercharged. They believe life should be lived at pace.  Like a battery that never runs out, they just keep going and going seemingly with unlimited supplies of energy and motivation leaving other breathless in their wake.
For Jericho Clearfield, this was the discovery she made about herself early in life.
It was an attitude that was often ambitious.  To take one example, at high school Jericho insisted that an internal assignment be sent to Wellington for moderation resulting in her only merit grade being upgraded to an excellence.  But equally, Jericho could sometimes be ambivalent; changing her degree options no less than three times in her first term at University.
Having considered sociology, anthropology and psychology Jericho eventually setted on a Bachelor of Commerce because it seemed to be the most "practical". That decision proved fateful - delivering an amazing marketing experience for a young commerce undergrad - the chance to work part time for one of the most high-profile youth brands on the planet.
"Securing a part time role with Red Bull was like a dream come true for me. I was responsible for running the student programme which meant getting the brand associated with every event that was happening on campus. I had access to Red Bull's full range of promotional resources including vehicles, sampling teams, staging and product. It also allowed me to build this huge network with different clubs and associations on campus."
After completing her degree, an email from one of Jericho's old bosses at Red Bull offered an opportunity to move to the Philippines to launch the brand there would.  It was another dream opportunity and for Jericho, it seemed luck had struck twice.
There was only one problem. Where in the world were the Philippines?
"I had to jump on Google to find it on a map and discovered photos of beautiful tree lined beaches. However, the reality of Manila where I was based, with its heat and stench turned out to be a very different experience."
Living in a hotel for the first three months and with little else to do but work, the intensity of the pace soon took its toll.
"My dad flew up and took me away. I was exhausted and had developed a problem with my middle ear which meant I had trouble standing. I had pushed myself to my limits and realised that I had to learn to pace myself more effectively."
After completing what became a one-year stint, an opportunity to return to New Zealand to provide temporary cover for a staff member on maternity leave would in turn lead to the ultimate global role with Red Bull – Student Marketing Manager based in London.
So once again it was time to pack the bags but unlike her arrival in Manila, this time stepping foot in London as the newest member of the Red Bull team seemed to Jericho more like a never-ending dream.
Working across 58 universities and leading a team of 52 people at just 24 was certainly another one of those "pinch yourself, this can't really be true moments!"
The time in London would eventually be followed by a successful two years in Melbourne as State Marketing Manager.  Then in 2018 it was time to say farewell to Red Bull.
"After seven years and an incredible dream run it was time to move on. I wanted to experience other opportunities and I had become increasingly concerned about issues such as climate change and those who were turning their social purpose into a livelihood."
Throwing caution to the wind and embarking on a one-year road trip around Australia with husband Billy has allowed her to step back from life, reflect on her journey to this point and decide on the next move.
"When I was in Melbourne I sat next to someone at a music festival who had a degree in environmental economics. What they told me about the impact climate change was having on the planet left me feeling deeply depressed for several weeks. So I've decided I want to figure out how I can make a real contribution in the area of environmental social impact."
While I haven't decided what that actually looks like I cannot believe how powerful it is to be still. I've only recently come to realise that personal sustainability is the essence for having a successful life."
It seems even supercharged batteries need the occasional recharge.