Founder & CEO, United Media Solution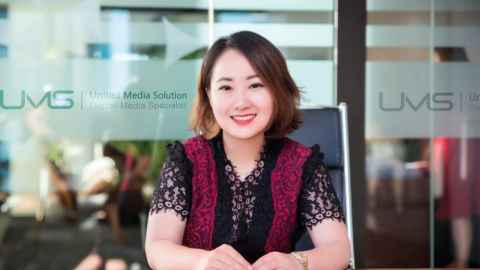 Sometimes a particular profession runs in families.
Inspiration and influence play a part too passing from one generation to the next.
For Jessica Miao, having a grandfather who had been a journalist and a father who was one of a group of pioneers in China who created online TV, there was perhaps a certain inevitability that she too would follow their footsteps into the media world.
"From a relatively young age, it was always my plan to become a journalist. Growing up I was particularly fascinated by war correspondents and I thought journalism would be a really exciting and important career to pursue. I was also keen to study overseas to challenge myself to overcome the language barrier and study a degree in a foreign language."
When she was 17, Jessica's parents sent her to New Zealand where she enrolled as an international student at Westlake Girls High School.
Recalling her first impressions of a country that was "safe and clean with lots of sheep" school would be her first immersion into a full English language environment.
"It was very emotional for me leaving China by myself at a relatively young age without my parents. However, I quickly grew to love my new school even though I did find it very challenging at first learning and communicating only in English."
She went on to complete her undergraduate degree in Mass Communication / Media Studies in Christchurch before moving to Auckland to enrol in a post-grad programme in Film, TV and Media Studies.
Jessica says she wanted to deepen her understanding of media and communications more broadly. One particular lecturer, Associate Professor Luke Goode, was especially influential in this regard.
"He would regularly remind us that everyone in the class was a professional. He taught us to always think professionally and be open-minded to new ideas and new opportunities. This is really my team management 101 lesson."
Initially planning to work for a large media corporation and pursue a career in the digital sector after graduating, Jessica says her plans changed when she returned to China for family reasons.
Soon finding work with a local news network, an unexpected opportunity emerged that would change her plans yet again.
"During this time, I maintained contact with the New Zealand community in China and found myself regularly attending New Zealand business events where I met with a number of New Zealand marketers and business owners and found myself acting as an informal interpreter between Chinese and Kiwi delegates. I quickly identified a potential business opportunity to help foreign companies navigate the China market and help them overcome the language and cultural barriers to achieve their business and marketing goals in China."
This led to the formation of UMS, which works with overseas companies to create digital marketing in China. The business now has offices in Shanghai, Ningbo, Auckland, Sydney and Melbourne and a team of more than 50 staff servicing a host of clients including Air New Zealand, Tourism New Zealand, Vodafone and Lion Nathan.
While no longer working for the big corporations herself, Jessica says she now has her own business where she gets to work in partnership with the big corporations instead.
"In the future, I want to continue to expand my business and my hope is that one day it will grow to become one of the leading cross-cultural digital marketing agencies in the world."
In 2017, Jessica's achievements were recognised with her inclusion in the Zhejiang Top 100 Innovative Women and in 2018 she was named a Top Ten Young Tech Entrepreneur by the Youth Federation of Yinzhou Ningbo.