Jessica Pearless is a co-director of Paragon Matter Art Services and of Northart, Auckland's North Shore public art gallery. She is a respected and award-winning visual artist who has worked in the commercial art sector including as a mentor for emerging artists. Jessica is a recent recipient of a University of Auckland Alumni Leadership Scholarship.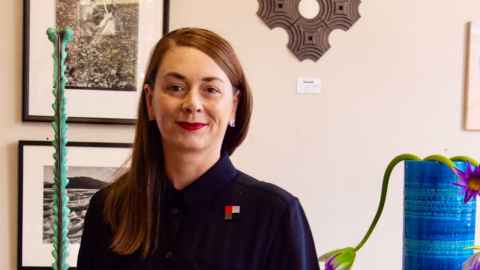 The construct of the artist can be many things, says Jessica Pearless who defines herself as both a visual artist and a creative entrepreneur.
Jessica's abstract paintings and site-specific installations have featured in the finals of the National Contemporary Art Awards; in Australasian group outdoor sculpture shows; and for special commissions such as "Flags for Te Wero Island" on Auckland's waterfront.
Yet at the same time as she has been building a significant artist's portfolio, Jessica has worked in the arts for over 20 years in a variety of commercial roles including running dealer galleries, working in the art auction market and as an artist mentor for Boosted and The Big Idea.
"I have always known that I have strong business and creative sensibilities and capabilities," she says. "My career has evolved to include both of these traits in unison."
One of Jessica's most recent ventures is an expression of this. In 2018 she established Paragon Matter Art Services with her work and life partner, artist Jonathan Organ. The company is an arts services agency that specialises in artist mentoring, art education classes, valuations to the cultural sector and art events.
"Mentoring, teaching and sharing knowledge is a key area of interest that folds into my aim to make a valuable contribution to the arts," she says
In 2020 Jessica also became the new co-Director of Northart, the North Shore's public art gallery, which she wants to see become a destination gallery on Auckland's North Shore, exhibiting quality works and creating a platform for discourse on contemporary New Zealand art.


Northart is something of a homecoming for Jessica too. She grew up on the North Shore and went to Takapuna Grammar School where her art teacher, Diana Smallfield, encouraged her to pursue art as a career. In 1999 she was accepted in to Elam and still maintains a professional relationship today with the head of school, Associate Professor Peter Shand.
After Elam she worked at Webb's Auction House for over a decade before moving on to complete a Master of Fine Arts and further develop her own art practice. In 2015 she was headhunted to promote a crowd-funding platform, Boosted, owned and operated by The Arts Foundation, to help artists realise artistic projects and to develop new skills. She is still involved with this work today.
"The notion of being a creative entrepreneur is not something I would have considered early on," Jessica reflects. "The recent development of this sector is hugely encouraging and has added a framework to the space I work in."
She and partner Jonathan are also extending their horizons beyond Auckland. They have bought land at Owhango, an old milling town 10 minutes south of Taumaranui towards Ruapehu. For the second time, they will hold the "Owhango Summer Sculpture Show" from December 27 2020 – January 10, 2021, featuring some 20 artists including big names such as Jeff Thompson, Elliot Collins and Wanda Gillespie.
"We understand outdoor sculpture and we want to offer another opportunity for artists and audiences outside the well-trodden Auckland art exhibition scene."
Of her rich and diverse career, Jessica says it takes compromise, determination, reflexivity and creative thinking to be an artist in contemporary culture.
"My constant learnings are to be patient, to keep going and to have faith in your work. Not everything happens all at once or instantly. I am in this for the long haul – the possibility that my best creative work is yet to come is a driving force."