Joshua Buckley is the operating executive at Control Air Enterprises, a large-scale mechanical construction company based in California. He has a strong management and marketing background and in 2010, while working for market research company IPSOS, was named the NZ Young Marketer of the Year.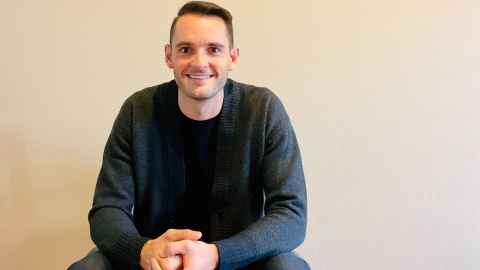 Joshua Buckley can still vividly recall how he felt on his first day at the University of Auckland. He was just 16 years old.
"What have I done and can I really do this?" he says were the two thoughts uppermost in his mind.
Time spent living in the US between the ages of five and nine had fostered a growing sense of independence, coupled with his father's advice to think from the end and work backwards. But there was still the lingering self-doubt.
Joshua was an active participant in events hosted by the Business School and it wasn't long before he had developed a keen interest in market research and business management. In 2009, he achieved the highest mark in his graduating class for his post-graduate honours dissertation. The year before, he was part of the team that won the annual market research case competition.

That win came with an unexpected benefit: a job offer from Synovate (now IPSOS) - one of the country's leading market research consultancies.

"I was so fortunate, I couldn't believe my luck," he says. "I was 19, working with some really great people and many of New Zealand's leading businesses were clients, so it was a perfect combo."
During his time at Synovate, Joshua developed a new "story-based" approach to research findings and client presentations that led to him being named the NZ Young Marketer of the Year in 2010.
This was a valuable addition to his CV and also became the catalyst for a bold decision to move to the US.
"To this day I get still get asked the question: why did you move to the US and leave such a beautiful country? In short I was following my dad's advice: don't let your position dictate your priorities, make your priorities dictate your position.
"I knew that if I wanted to gain experience quickly and be exposed to an array of management and strategy styles, moving to a larger economy would be very beneficial. It would allow me to get to where I wanted to be more quickly."
Ten years on since graduating, Joshua has been fortunate to work with many world-class companies and within a range of both small-to-medium and medium-to-large corporations covering multiple market sectors.
In his current role, Joshua is the operating executive at Control Air Enterprises. His key focus is refining and implementing operational procedures that align and enhance the company's profit benchmarks and long-term strategic goals. The business focuses on large-scale mechanical construction with clients such as Amazon, Netflix and Apple.

"If you had asked me ten years ago if I saw myself working in commercial construction, I
would have said 'no way!'. But it's a reminder of that old adage 'you don't know what you don't know' which has probably been one of my biggest learnings along the way."
Always thinking ahead, Joshua places a high value on not letting life just go by.
"A few years ago, my wife and I sat down and wrote our priorities for the coming decade and beyond. Back to the idea of not letting your position dictate your priorities. The clock is constantly ticking and for us we are both responsible for using that time to the best of our abilities given the skills and resources we have been blessed with.
"Applying more of my time towards not-for-profit or higher education teaching is definitely something I would consider in the future."