Chief Editor, Ministry of Education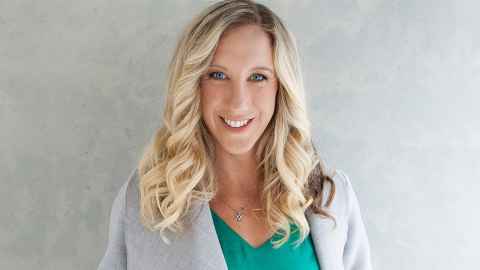 For Jude Barback the world of international publishing was about as far removed from life on a Waikato dairy farm as it was possible to get. But being a keen writer with a fascination for books and a love of English, she was ready and waiting for opportunity to come knocking.
People often talk about those individuals who come into their lives at a certain point and are influential in helping them determine their future career direction.
For Jude, that person came in the form of a distant relative based in the U.S. who worked for a major publishing house. Visiting New Zealand for a short time her enthusiasm for her job and her genuine interest in the publishing sector would subsequently prove to be opportune.
Jude enrolled in a BA/BCom with a "vague notion that I wanted to work in publishing, although in reality I knew very little about the sector".  The commerce papers helped her to gain a broad understanding of many different aspects of business and would prove to be valuable in future management roles.
I have always been inspired and influenced by strong, gritty female leaders.
Deciding in her third year she couldn't wait to get started on her O.E. and finding a six-month exchange programme at Birmingham University that appealed, Jude soon found herself in the UK immersed in a course that seemed to tick all the boxes.
"The Birmingham exchange was ideal. The papers I completed there slotted seamlessly into my University of Auckland degree and opened my eyes to possibilities for where my qualifications might one day take me."
Sure enough, following her graduation from Auckland, Jude promptly returned to England where she secured a role at Blackwell Publishing (now Wiley) as a medical journals publishing assistant.
"One year later the company supported me to complete an MA in Publishing at Oxford Brookes University and then progress to Journals Publishing Manager. It wasn't exactly novels and children's books as I had originally envisaged, but academic publishing proved to be very fulfilling with lots of international travel and rubbing shoulders with some truly great minds."
Returning to New Zealand seven years later and deciding to sidestep from publishing into journalism and editing with NZME, Jude believes she has found her true calling.
"I have always been inspired and influenced by strong, gritty female leaders. As a journalist, I have sought opportunities to interview women who through sheer hard work, determination and talent have made a difference in their fields and perhaps broken barriers along the way. One significant story I covered was the aged care worker pay equity settlement led by Kristine Bartlett, who went on to become New Zealander of the Year."
A recent appointment as Chief Editor for the Ministry of Education will provide a new opportunity to focus on the education sector which is never far from the headlines.
Summing up her biggest learning along the way, Jude is unequivocal.
"All the pondering and planning in the world is futile unless you get busy and actually do the things on your to-do list! Nowhere is this more relevant than the deadline-driven world of publishing. I used to fret about how to write an excellent article, or commission a great feature series and then afterwards mourn that it could have been better. I have since learned that pining for more time and talent is fruitless. It is far better to get on with it, then move to the next project and resolve to continuously improve."