Julia Suh is the founder and CEO of Paper Plain, a start-up that works to involve communities in the development of public spaces and built environments. After studying architecture at the University of Auckland, Julia did her Masters at Yale University and has practiced architecture, placemaking and urban design in New York, Auckland and Sydney.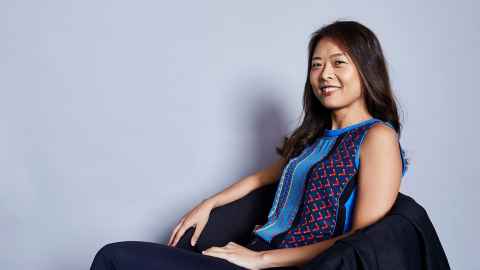 It was a childhood in a high-density apartment community in Seoul that was the seed for Julia Suh's career as an architect and social entrepreneur. The apartments, built to accommodate the Olympic athletes and journalists, were innovative for their pedestrian-only ground level spaces.
"I think growing up, I used to compare it to my grandparents' house on a farm, which was really old-school, toilet outside, dairy cow kind of thing, and I thought, 'why am I living in such a different environment?'"
A move to New Zealand when she was 14 was another catalyst for her interest in the intersection between human requirement and urban development.
"Maybe it's from sitting in that ESOL class when you first move to a different country and you don't speak the language and you're there with other people who also don't speak English. All the authority figures you see are white and so you have to fight against yourself going 'I don't see myself as a leader.'"
She is a leader now, engaging in public speaking and consultancy and working with multiple agencies in Australia, including the Green Building Council of Australia during its development of a credit rating for new buildings.
Julia's passion is bringing people into the urban development process in a meaningful way, "taking a deep dive into what humans need and want and respecting their desires through community engagement". This is where Paper Plain comes in, and its social enterprise forerunner, Small Shift.
Julia's transition from traditional architecture began with Small Shift and its first project is still a source of pride, especially as it was a leap of faith.
"I really wanted to test an idea that I had, so I left my job to do something that I believed could work."
The idea was formed while volunteering at a café in Darlinghurst that serves meals for people experiencing homelessness. "From my experience, I knew that people were very capable of doing things for themselves, so I partnered with Rough Edges to engage the patrons as well as the local businesses and community and together we implemented a street frontage improvement project.
"It was a really nice project that proved the concept and the point that we could use these small projects across the country to engage people on the margins in a different way."
Julia believes that the freedom to be creative while she was at university has helped her to make leaps into the unknown. "Creativity is being able to imagine what didn't exist before and I think that the university made that possible. Being able to find that courage, permission, to think outside the box is really important and something everyone should practice throughout their careers."
Placemaking was still an emerging concept in Australia when she transitioned to it that she travelled to Denmark to study it. Just a few years later, "we've seen crazy changes, which is great, and people are now really talking about what it means when we talk about human-centred design."
Julia's future, for now, is consulting, "working with the stakeholders, especially in the city-making context". But as someone who loves to cross-pollinate different ideas and disciplines, "I don't imagine architecture followed by social entrepreneurship and tech is the end."