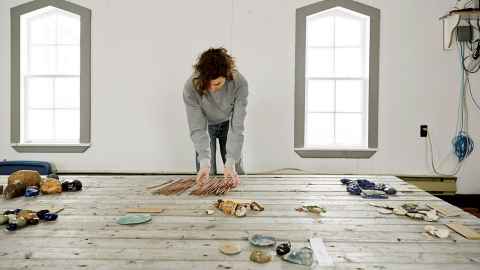 In 2014, the influential British art magazine Frieze described New Zealander Kate Newby's art as "radically slight", and, more significantly, "earthwork in miniature". Wind chimes, coins pressed into the pavement, plastic bags fluttering in trees – quiet interventions like this have made Kate one of New Zealand's most internationally successful artists, praised and fêted by some of the most influential curators and critics in the world.*
As a child growing up at Auckland's Bethells Beach, where her father was a potter, there were always places to explore and the constant sound of the waves to keep you connected to the land. It's an upbringing Kate contrasts with her current lifestyle living in New York, where she is now based, though Auckland, and particularly Bethells, remains her 'spiritual' home and somehow she manages to live and work between both cities.
"My parents provided me with a base from which I felt comfortable and confident to experiment and try things out. I grew up listening to a lot of punk music and artists like Patti Smith had a big influence on me. Even today I still listen to music to help me think."
Accepted into Elam, Kate completed her Bachelor's degree in 2001 (Fine Arts), a Masters in 2007 (Fine Arts) and most recently a doctorate of Fine Arts in 2015, also winning the Walters Prize in 2012, New Zealand's richest contemporary art award.
"Getting into Elam I just felt incredibly excited. From the age of 15 I had my heart set on studying fine arts. In fact, it wasn't even a discussion. I absolutely knew that was what I was going to do and that I would become a painter."
But in her third year that all changed. Switching to sculpture, Kate says she became very interested in exploring space which is where she finds herself today.
A natural-born traveller, her recent exhibition schedule has included: New York, London, Stockholm, Melbourne, Mexico City, Toronto, as well as a much-sought-after residency on Fogo Island in Newfoundland.
Embracing risk and learning to be comfortable feeling uncomfortable she says have been key learnings.
"The most important thing I have learned is how to take small steps toward something greater, even when I cannot see how they will add up ahead of time. It is always tempting to hold back and wait for all the pieces to align, but more and more I see how the most momentous and crucial opportunities and experiences I have had come from embracing my incomprehension and moving forward; despite my reservations and discomfort."
Kate singles out Bethells resident and former art teacher Allie Eagle and Dr P Mule at Elam for special mention as two people who have had a significant influence on her work.
"Allie took me under her wing when I was very young and gave me lots of encouragement to explore my interest in art and P.Mule was the main reason I returned to art school to undertake my Master's degree, which in turn really changed my work for the better and opened up a trajectory that my work is still following."
*Quiet wanderer: Kiwi sculptor Kate Newby by Anthony Byrt (Dec 2016) used with permission