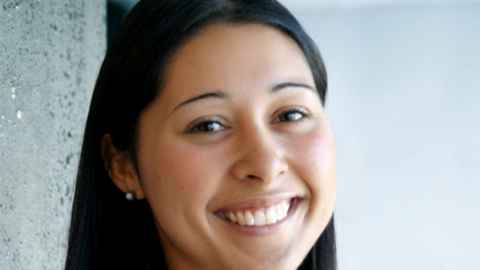 One of the most idyllic places to grow up in New Zealand would have to be Aotea Great Barrier Island. The Hauraki Gulf's northern most island is a haven for tranquil solitude only interrupted by the lapping of waves on its many deserted beaches.
For Kiri Toki, a born and bred local, the island's isolation from the mainland was no barrier to building the early foundations for her own education and her eventual move to Switzerland where she is now based.
"My papakāinga (Aotea, Great Barrier) has shaped everything in my life. I grew up in an amazing community. I attended a tiny school at Okiwi with around 30 other students where it felt more like being part of an extended family than a traditional school environment."
Raised by parents and grandparents who highly valued education and learning in all its various shapes and forms, Kiri credits her upbringing for instilling in her a thirst for knowledge at a young age.
Graduating with a BA/LLB (Hons) in 2011, including being named the NZ Law Society Centennial (Māori) Scholar and going on to complete a Master of Laws at Harvard Law School as a Fullbright Scholar, has led to her current role working in Switzerland at the World Intellectual Property Organisation based in Geneva.
"In my role at WIPO, I work largely as part of a team tasked with assisting our member states negotiate a legal instrument(s) which will ensure the effective protection of indigenous peoples' traditional knowledge at the international level. As a lawyer you are usually involved in interpreting and applying the law. But what makes this role so exciting is that you are a small part of the process where the law is being created, and at the international level too."
While it all seems a world away from growing up on Aotea Great Barrier, Kiri reflects on her time at university and the impact it had on her personally.
"My time as a student was the first opportunity I'd had to be exposed to grand and novel ideas about the world and the first time that I realised my unique place within it. At university, I was responsible for my own learning and had the freedom to choose what I really wanted to learn, which is incredibly empowering."
Now working at the United Nations, she is reminded of the skills you develop while you're at university – efficiency, hard work and attention to detail – and how important they are to that prepare for any role in the future.
Kiri credits  a lot of her success to the education she received at the University of Auckland.
"My time at Harvard reaffirmed my belief that the quality of education at the University of Auckland is truly world class. While at Harvard, I never felt out of my depth nor technically disadvantaged in any way. In fact, because of my time at Auckland, I feel like I thrived. Without this foundation, I could never have reached the position I'm now at in my career."