Founder and Director, The Kindness Institute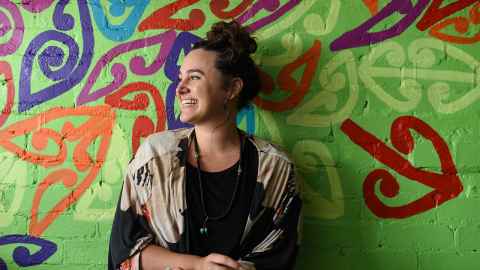 Truth be told, school hadn't always been smooth sailing for Kristina who indulged in occasional bouts of "being a bit naughty", but having gained University Entrance in Year 12, the chance to skip her final year in favour of starting uni a year early was liberating.
With one eye on an acting career and the other on languages, enrolling in a Bachelor of Arts majoring in theatre and Spanish seemed like the perfect combination.
But there was another goal that was also important; learning to speak Te Reo Māori.
"Studying and learning on the marae was a special experience and helped me to develop my connection to Te Ao Māori and language which is a journey I am still beginning today."
Kristina secured a 360 International Exchange Award to study in Hawai'i for a year – an experience which really opened her eyes and completely changed her perspective on life.
"The University of Hawai'i had an amazing Theatre department. I also studied Hawaiian language. Moving to Hawai'i at 18 and not knowing anyone gave me a lot of confidence and shaped who I am today. Meeting passionate people from many different backgrounds opened my world up to so many possibilities."
Kristina graduated in 2008 but it was during a trip to Bolivia to learn Spanish that her life path underwent a dramatic shift. "I saw some horrific things that were really confronting. Young children being forced into prostitution and addiction, 11-year-old kids in Bolivia living a life I don't think any child – or anyone – should be living. That's when I decided to get more involved in supporting marginalised youth."
Seeking an organisation where she could volunteer her services led to NPH International, a Latin American based charity that sets up homes for orphaned or abandoned children in nine different countries.
Kristina intended to only stay for a month as part of a summer volunteer programme but ended up staying two years.
"Volunteering changed my life for the better. I found a new family of over 200 children who I still visit to this day. It taught me what's important in life – love, connection and community. I learnt so much about myself and working with people in a crisis situation at 23 years old."
Going on to volunteer in Haiti in 2010 and assist in the relief effort following the magnitude 7.0 earthquake that devastated the country was both heart-breaking and rewarding in equal measure.
But it also quickly became overwhelming. The number of children needing a home, food and most importantly emotional support grew rapidly. Kristina could feel herself starting to burn out, so to keep going she began a daily routine she had learned as a child when her mum used to take her along to yoga classes.
"When I was younger, I found it really difficult to sit still. But amidst all the devastation and the hurt I was experiencing I found that yoga and meditation really helped me to still my mind and allowed me to recharge."
Moving back to New Zealand in 2011 to fundraise for NPH and establish a local office for the charity here, there was also the opportunity to continue her work teaching mindfulness, yoga and meditation to young people.
"When I was working in the NPH home, I saw for myself how something so simple could have such a profound impact, it seemed obvious to also do it here."
In 2014 Kristina travelled to the US to learn more about meditation and mindfulness.  She studied through Jon Kabat-Zinn's Centre for Mindfulness and became a coach herself, learning why yoga and meditation have such a positive effect on the brain.
After visiting The Holistic Life Foundation in Baltimore, one of the 10 most dangerous cities in America, and seeing the impact of their meditation programmes, Kristina was inspired to bring a similar type of teaching to New Zealand. This led to the establishment of The Kindness Institute in 2016 to help Kiwi youth create better tools for dealing with stress and emotion.
"The young people I work with are marginalised, with many suffering from acute stress. They generally have low self-efficacy but loads of potential – youth who need support managing their minds and emotions."
The Kindness Institute has already reached more than 800 young people, and the demand for the programme has increased 500 per cent in the past year alone. It's now being taught in various high schools and primary schools around Auckland as well as involving teenagers from community groups and youth justice facilities.
And right now, the stakes couldn't be higher. A 2017 UNICEF report concluded that New Zealand has the highest youth suicide rate in the developed world – twice as high as the US and almost five times the UK rate.
"New Zealand has an appalling legacy when it comes to mental health. Of all the countries in the world I've been to we have the most toxic approach: basically 'toughen up, she'll be right.' We need to change the conversation around mental health and teach our young people that their mental health is more important than their success."
2018 was a big year for Kristina being named a Member of the New Zealand Order of Merit for services to youth and the community, nominated for Young New Zealander of the Year and receiving a Women's Fund Champion of Change award.
"I went to university to study theatre with dreams of becoming an actor and yet my life has gone in a completely different direction I could never have dreamed would be possible."