Mahmood Hikmet is Head of Research and Development at Ohmio, a world leader in autonomous vehicle design. His areas of expertise cover artificial intelligence, machine learning, the internet of things, embedded systems and cloud computing, but he is also passionate about science communication and breaking down barriers between the tech and non-tech worlds. He is a mentor at Pillars, an organisation that supports families with an incarcerated parent and was once involved in stand-up comedy, improv and theatre sports.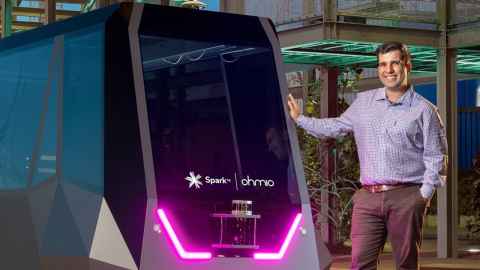 If engineer Mahmood Hikmet needed inspiration, he didn't have to look far. Since Mahmood and his family arrived in New Zealand from Iraq in 1996, his father, Mohammed, has built a hugely successful company. His mum, Taghreed, is also no slouch, having recently finishing her PhD in international business.
"I'm super proud of both my parents," says Mahmood. "My dad is an incredibly hard-working person. I think one of the best cases you can make for immigration and why New Zealand should have more of it is people like him."
The business, HMI Technologies, began with digital transport signs and has expanded into many other areas, such as commercial and sports signage. After his degree, Mahmood was working in research and development at HMI when the company decided it needed to be at the forefront of the driverless car future.
"There's no doubt that the whole industry is moving towards autonomous driving," says Mahmood. "Small buses, even personal private vehicles, are getting more and more autonomous as time goes on. You've got large companies like Uber putting millions of dollars into their own autonomous fleet."
Ohmio was born and in a relatively short space of time has produced autonomous shuttles, including making the world's largest 3D-printed vehicle, which is currently at Christchurch Airport.
The achievements are "a really cool part of my career so far" says Mahmood. Naturally, "we're still working on a lot of this stuff and we're still moving forward", no pun intended, but the team have sold vehicles to Korea, which is "such a strange sentence, it's like if we were buying Korean cheese."
At 30, however, Mahmood has his sights on bringing together the two things he is most passionate about – tech and teaching. From his early teens, he has been interested in performance; he taught drama and theatre sports to intermediate school students when he was in high school, he has performed stand-up and improv and while he was studying, wrote and directed the Engineering Revue for three years running.
"Engineers for the most part are generally introverted, that's the stereotype, but seeing people break out of their comfort zone and perform to an audience of a few hundred people was really rewarding."
His next step is taking these experiences and applying them to science communication.
"I think that there's a real barrier between tech people and non-tech people and that's usually hidden behind jargon," he says.
"The best lesson I ever got in my PhD is the ability to learn new things relatively quickly and then get enough knowledge about them in order to explain them to other people.
"That's where I see myself in the world; bringing knowledge from behind a barrier that people can't cross by themselves and saying, 'look, it's not really that scary or that complicated'."
Video creation on YouTube and Twitch is some distance from the youngster who used to say he wanted to be a "screw engineer" when he grew up and who liked "putting things together and taking them apart".
"I don't really work with screws as much as two or three-year-old me wanted to, but I'm definitely still an engineer."