Mal Lakatani is a musician and educator who co-founded the Creative Souls Project and the Little Souls Music Academy in Auckland, social enterprises that offer arts and music education to youngsters and teens. He taught music at Avondale College and has been the Niue stage co-ordinator for ASB Polyfest for seven years. As a musician, he has worked with Te Vaka, Che Fu and David Dallas, performed with his own bands, released singles and 2 EPs "Quote Unquote" and "Lakatani Highlanders" and been nominated for multiple Pacific Music Awards.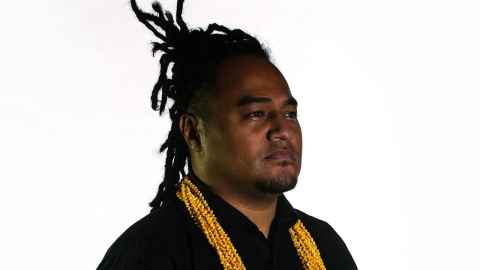 Perhaps the die was already cast before Mal Lakatani was born. His dad was part of a family band and there were rehearsals and equipment in the house right from the start. By the time he was six, Mal was playing in the band. "It was fun. I just loved it."
There was also learning the organ for church and playing the guitar for school assembly at his primary school. He doesn't play any horns, but he can't rightly say how many instruments he has mastered – "piano, guitar, drums, ukulele, bass. Lots" – in addition to singing.
So, of course, he thought about being a maths teacher. Well, "until I met sixth form calculus" he jokes, but he did know he wanted to be a teacher as early as form four. Then in his seventh-form year, the music teachers at Avondale College encouraged him down the right path.
At university, there were times that Mal had to defer his Bachelor of Education for touring, recording or session work, but 14 years later, he credits his studies with giving him the flexibility to roll with whatever is happening in the classroom.
"There are so many changes, like in technology and classroom styles; they're not even called rooms, they're called learning studios. You have to see what's happening for the kids, what is their current way of learning, what's the best way that they're learning, is it iPads or is it laminated sheets or overhead projectors?"
You have to remember where you came from, says Mal, and "know who you are and where you're going".
Connections formed at university are also important. "When I see them now, they're like family, they're more than just mates. It's having those networks."
Mal is firmly part of the Avondale community; he returned to Avondale Intermediate to teach and then went on to Avondale College. It was "special to go back there," he says. However, he had always had the idea of starting his own music school and also going to Niue, where his family is from, to teach.
And so The Creative Souls Project was born, followed by Little Souls Music Academy. They're his greatest achievement – other than his family, of course. Mal's wife, Deahne, is involved with the arts side, while he focuses on the music side.
The two enterprises were another learning curve and Mal had "a sit down chitchat with one of my mentors" to figure out how to start a small business. "I said, 'I don't know anything about business, I'm a teacher'," says Mal. "So he was helping me with all those difficult questions."
Mal now has the satisfaction of seeing students going on to higher learning, including university, and playing in professional bands. "Watching them grow is inspiring, because it's another full circle."
He has plans to obtain his Masters degree and open up that music school in Niue, although all in good time.
"I'm just waiting for my boy to be old enough and making sure that everything's okay at home so I can go and do it comfortably. I don't want to be taking on something and then regretting it."