CTO, Vicon Motion Systems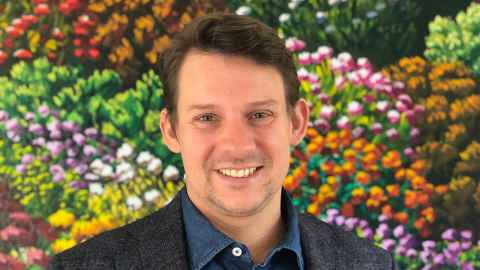 Swimming was everything for Mark Finch - and he was good at it!  Securing national titles as a teen and competing in numerous competitions Mark had the potential to go a long way in a sport that challenged him both mentally and physically.
Like many good swimmers, he was also a surf lifesaver and regularly volunteered at the Paekakiriki Surf Lifesaving club on the Kapiti Coast.
But all that was to change.  It was Mark's final year at high school.  He was driving home, feeling good about a rescue he had been involved in earlier in the day, when he suffered a near fatal car accident requiring extensive surgery.  It put a stop to his swimming career and caused him to rethink his future direction. He decided to focus instead on developing technology to help others.
After a painful recovery and rehabilitation programme Mark was finally able to begin his undergraduate studies. Initially enrolling in a Bachelor of Science degree, he soon switched to Biomedical Engineering.
"I wanted to focus on sports and technology and specifically wanted to be on the innovative side of helping athletes and patients. I wanted to build and design tools and techniques to give coaches and clinicians the ability to make data driven decisions around their athletes' and patients' performance and health."
Mark completed his Master's at the Bioengineering Institute where he developed a wireless chipset that enabled users to quantify both the muscle activation and dynamic body movement caused by the activations of various muscles.
This put in motion the steps for a career which has been built around inertial measurements and body motion, specifically focused on leveraging the technology into the real world.
The technology developed has been used to help Olympic athletes tweak their performance, as well as aid NBA superstars back from injury the entire way through their return to play journey.
Following the completion of his Master's, Mark worked at the University's Bioengineering Institute for a number of years as a research engineer further developing his expertise with inertial measurements, researching various fields ranging from quantifying body movement to utilizing the technology to better understand Shaken Baby Syndrome in infants.
Ambitions to eventually start his own company, which were further fuelled after winning a scholarship to Stanford University to attend a Summer Institute for Entrepreneurship programme, would lead to Mark co-founding IMeasureU with Dr. Thor Besier
The technology involved coupling Inertial Measurement Units (IMU) with biomechanics and computational models, to deliver end-to-end solutions around body motion.
In 2017 the business was acquired by Vicon the world's largest supplier of precision motion capture and tracking systems. It serves customers in CG animation, object tracking, virtual and augmented realities, engineering, broadcast, biomechanics, sports and clinical sciences arenas.
After heading the IMeasureU team in Auckland for two years post acquisition, Mark was recently promoted to the CTO of Vicon, and the latest stage of his journey has included a relocation to the UK to work from the Vicon head office in Oxford
He says that he could never have dreamed up the path that took him to where he is now.
"It was a series of fortunate events along the way, including being at the Bioengineering Institute where I was studying, and working in a field that was at the forefront of the technology curve and being exposed to exciting new challenges every day.
I just seized the opportunities that were offered to me and was supported and encouraged to push the boundaries. I had a very fortunate experience and journey in the start-up world early in my career and now I feel like everything has fallen into place. I'm in a dream position working for a dream company doing work that I absolutely love."