Matty Blomfield is the co-founder of Hectre, an orchard management software tool designed to reduce the amount of fruit wasted globally, by giving growers access to a platform that significantly improves the performance of their business. He is also the co-founder of Hacktivate, a high-pressure technology sport.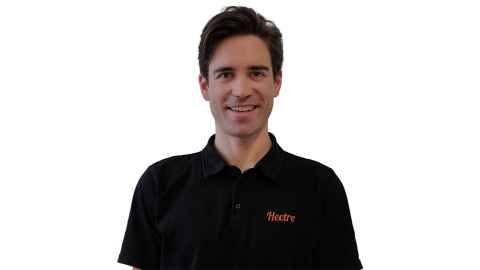 In his final year of high school, Matty Blomfield went on a five-month exchange to Tochigi in Japan. The experience had a significant impact on his life.
"I remember joining a volleyball team while I was in Japan and we used to practise every day for three to four hours. In New Zealand most school sports teams usually only practise once a week while in Japan everything is about showing commitment and building a strong work ethic. I soon found myself becoming quite obsessed with the culture."
Back in New Zealand, Matty enrolled at the University of Auckland to study for a Bachelor of Commerce in International Trade and a Bachelor of Arts majoring in Japanese. While still studying, he secured a full scholarship from the Japanese Ministry of Culture and Technology to complete an intensive one-year research programme at Gakugei University studying linguistics, culture and etymological studies of Kanji – a language system.
Returning to New Zealand and graduating from the University with a BA/BCom in 2011, Matty observed that computer coding was gaining increasing popularity with students as new languages were making it easier for beginners to get involved. He spotted an opportunity with his co-founders to create a team-based competition pitting coding teams against one another. This led to the formation of Hacktivate, a high-pressure technology sport with all the usual hype of cheering fans, live commentary and visuals streamed to the audience.

Alongside Hacktivate, Matty co-founded an early-stage digital marketing agency before deciding it was time to put his entrepreneurial skills to the test.
As a result of his experience in digital marketing, he and his business partner became increasingly convinced there was an unfilled gap in the market to create a customisable e-invitation for weddings. One year after developing the product, including thousands of hours of coding and preparation in the lead up to the launch, Matty and his team booked a stand at the country's premier wedding expo and waited for the orders to roll in.
But they never came. By the end of the expo they had secured just a single order.
"We were devastated," Matty recalls. "But it was also a powerful, if somewhat expensive, experience I was determined to learn from."
A switch into horticulture wasn't originally on the radar, but after becoming aware of how most orchards were still using manual, paper-based systems, it seemed an obvious sector that could benefit from a technology-based solution.
Working with founder Menilik Dyer, a few months later Hectre was born, an orchard management technology company designed to help growers increase profitability by driving high-grade, consistent fruit, utilising an easy-to-use suite of tools, designed to make orcharding easier.
It wasn't all plain sailing though. After selling multiple subscriptions, the technology failed to live up to expectations in its first year requiring a complete rebuild of the software.
"That was embarrassing and resulted in us going back to our customers very apologetic and telling them they could use our product for free the following year. Fortunately they all stayed with us and in our second year we managed to deliver a vastly improved product that met all its key performance targets."
The business now employs a team of 25 staff and has since expanded into Australia and the US, tracking more than three billion apples annually.
"We're committed to reducing the amount of fruit wasted globally by giving growers technology tools they've never had previously," Matty says.
"For me, getting more food to people with reduced waste as a result of technology is personally very satisfying."
Take 10 podcast series: Matty Blomfield; To Japan, New York and Back Again: An Entrepreneur's Journey
Listen to University of Auckland 40 Under 40: Entrepreneur Matty Blomfield's journey to creating his two successful ventures, Hectre and Hactivate; what principles you need to thrive as an entrepreneur; and how humour and human connection can make the difference.