Michael Moka is the founder of Indigenous Growth Ltd, a consultancy that empowers employees with a programme based on indigenous values. To date, clients include SkyCity Entertainment, Fletcher Building, NZ Post and Air New Zealand. Michael was formerly employed in the Department of Executive Development at the University of Auckland's Business School and is a trustee of non-profit organisation Life Education Plus.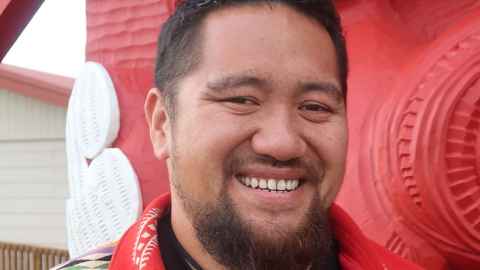 Michael Moka knows his greatest achievement: his baby son, born in June. You could say the new pēpi, Michael and wife Toria's first, is a symbol of the life that the Mokas have crafted for themselves from what could euphemistically be described as challenging beginnings.
Michael's other great achievement is his consultancy, founded in 2013, which brings indigenous values into organisations in order to tap into the leadership potential of employees.
It's a gap in the market that you might think would have been filled, but as leadership consultancy is "mainly a Pākehā area to be in" says Michael, "we're the only indigenous organisation in there".
Indigenous Growth's programme is different, he says, because it starts with indigenous principles and overlays the relevant executive principles.
"I saw organisations that had Māori leadership, but they go, 'here's a leadership programme that works for everyone, let's just put Māori words to it and call it a Māori leadership programme' and they would put in a Māori facilitator if you were lucky.

"So we just flipped it around. It did take a while to get the model, but now the model's there, everyone's going, 'man, this is common sense'.
"Companies have intent and will say 'bring your whole self to work', but they don't know how to embed that into their people and they don't know how to encourage it." The programme is not only for Māori, says Michael.
"The values connect with people who want to bring their cultural self to work, so all indigenous cultures will connect, they just use their own language."
Working with big clients such as SkyCity and Fletcher Building – which have both won diversity awards for the programme – is a far cry from Michael's west Auckland beginnings, when he and Toria struck out on their own when they were just 15.
They lived in their car, in garages and with relatives while working multiple jobs to put themselves through school. Even so, Michael became head prefect at Kelston Boys' High School and was involved in kapa haka and sport.
Michael's ethos of joining in and networking continued at university, where he was heavily involved with student associations Ngā Tauira Māori and Commerce Association Pacific and Māori.
It's one of the things he values about his studies at the Business School.
"This is what I keep telling our people, if you didn't go to university, you better be good networkers. The greatest thing I got during those four years of study was 50 lifelong friends. When we can help each other out, it's a lot easier to ask because you have that connection."
He is proud of developing a way "we can serve our people so they achieve their potential, they get paid more, they get into leadership positions and they become role models to their kids and their family – but not at the expense of our wellbeing.
"You see a lot of our community leaders who just have to give all of themselves and there's nothing looking after them, so that's our greatest achievement. Other than my son, of course."
The idea now is to franchise and Michael and his team were set to travel to Canada in July to work with First Nations people, although a new arrival scuppered that plan, not to mention a global pandemic.
"We want to be serving indigenous people globally. In five years, that's where we want to be."