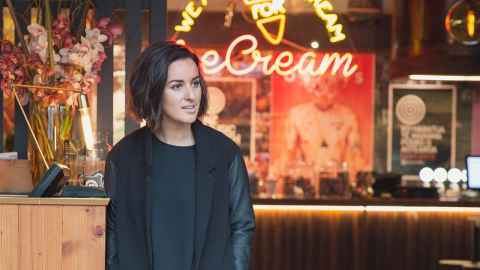 Setting up her first business at 16, and being part of a family with a string of successful hospitality businesses to their name, Auckland restaurateur and entrepreneur Mimi Gilmour might have been pre-destined to opt for a commerce degree when she commenced her university studies in 2003.
Her decision to instead study Fine Arts at Elam, majoring in photography stemmed from a strong desire to explore her creative side in an environment where she could really push the boundaries.
"I never actually thought I would get in but I'm very grateful I did. Elam taught me to think differently.  It taught me that there is always more than one right answer and that the right answer may be different for different people.  It also taught me that whatever happens to never lose sight of what you feel is the right answer, and to trust it and to be brave and bold with it."
But Mimi says one of her greatest strengths in business is to think holistically and she definitely credits that to her time at Elam. Learning to cook at a young age and helping with her parents' dinner parties led to her first business venture - helping cater for other people's dinner parties, hiring friends to help as it grew.
It was an early lesson in gaining valuable hands on experience running a business at a young age.
"My parents were very specific about the way you do things. Everything should be done properly and completed to a very high standard. So it was a generous upbringing but also very disciplined and I have benefited greatly from that."
It didn't take long before the bright lights of Sydney beckoned and at just 26 Mimi opened her own successful restaurant, District Dining, in Sydney's swanky Surry Hills eventually launching a sister restaurant by the same name in Auckland a few years later.
But it was the opportunity to take on the role of creative director for food festival Taste at The Cloud in 2011 that was to prove pivotal in luring the young restaurateur back to Auckland.
"At the time I was feeling a bit homesick so when the opportunity came to showcase an incredible culinary experience in The Cloud as part of the Rugby World Cup it was an offer I couldn't turn down. The only problem was I had just four months to put it all together. It was the hardest I've worked in my whole life and very stressful. I survived on 4-5 hours of sleep a night for 120 days straight."
More restaurant launches followed including the Mexico Group in 2011, which was later sold and Burger Burger, a business that started in a 60 square metre space in Auckland's trendy Ponsonby Central serving 160,000 customers in its first year. This was quickly followed by a second 140-seat restaurant in Newmarket and a third in Takapuna with plans to open in another 12 locations over the next five years.
Named as Restaurateur of the Year in 2012 and describing herself as "quite fearless" Mimi's best piece of advice for those wanting to follow in her footsteps is to carefully select the people you bring in around you.
"Recognise your strengths and learn to trust that if you surround yourself with brilliant people that compliment your skill set then although it may at times feel like the cost associated with this is daunting, it will ultimately save you time, money and most importantly energy which you need to make sure you are contributing your best to your business at all times."