Serial entrepreneur Mofei Bian used his knowledge of how business operates in China to connect overseas architects, builders and developers with China's best manufacturers of prefabricated housing. And he says studying Film, TV and Media Studies at the University of Auckland was the best preparation he could possibly have had.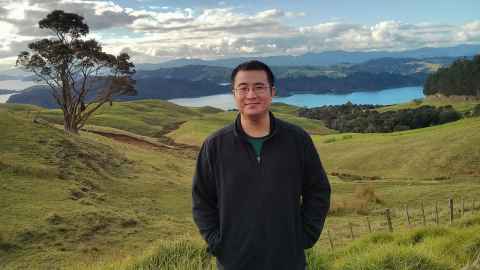 Mofei Bian has been influential in changing the way we build homes in New Zealand. He founded a prefabricated housing platform that saw dozens of homes built in Chinese factories and re-assembled in Kiwi suburbs, and elsewhere around the world.
Five years later the Beijing-based serial entrepreneur is now a passive investor in emerging opportunities in Asian economies.
It's a surprising career trajectory for Mofei, who holds a double major in Psychology and Film, TV and Media Studies from the University of Auckland.
"You've got to adapt to surprises in your career, since I was hoping that I could become a film director someday after graduating with a film degree, then instead I settled in e-commerce for many years, had my own start-up and now I've ended up in investment management."
He says the process of writing essays for Film, TV and Media Studies' papers was in fact the best preparation he could have had for a career in business. 
He recalls his shock when as an undergraduate he was assigned an essay about German Expressionism but found the topic wasn't covered in lectures.
"I had to read through many books and do my own research to complete the essay. After writing dozens of essays throughout university life, I was trained well to do research in any field and that helped me handsomely in my start-up and investment career," he says.
Graduating in 2006, Mofei worked in e-commerce and digital marketing before launching his prefab housing start-up in 2015, raising 3 million Chinese yuan (NZ$670,000) in angel investment.
"Prefabricated passive housing really is the future, it's much more energy-efficient and comfortable to live in than traditional housing, but it is still too expensive to be competitive. I think a reasonable solution is to build semi-passive housing, which the average salary earner can afford. With government support this could vastly improve the standard of housing stock in New Zealand and lower construction costs."
As well as cost, his venture faced many challenges, with Mofei having to overcome prejudice toward Chinese-made products and economic policies designed to protect local construction industries.
"Sometimes, people think Chinese-made prefab houses aren't good quality. But that's not the problem. The quality of pre-fab houses can be much higher because they are built in a controlled environment. They use the same materials as any house in New Zealand, and will usually have better insulation, energy efficiency and technology built-in," Mofei says.
"The problem, as with any goods and service, is that if you don't pay good money you will get a poor product. There are lots of prefab housing options on Alibaba.com but you don't really know what you are getting."
Mofei is not afraid to completely change his career every few years to try something new. For his next endeavour he hopes to build a platform for New Zealanders to invest in rising Asian economies. 
His parting advice for any student hoping to find their way as an entrepreneur: "Make your own decisions based on who you are and what you love. Your friends, your colleagues and your family members may not make the right decision for you, you have to find the answer yourself."