Having risen to the top of her field as an obstetric anaesthetist, Morgan Edwards is using her vast knowledge to help pregnant women make informed choices without guilt.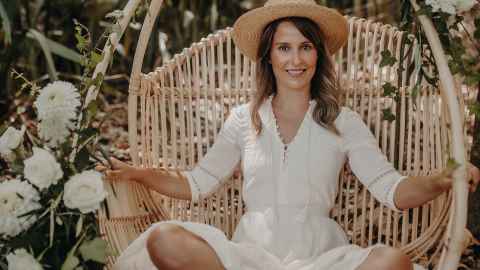 You could say Morgan Edwards is the Siouxsie Wiles of the maternity ward.
The no-nonsense doctor is a highly respected obstetric anaesthetist, the current Waitematā District Health Board Obstetric Anaesthetic lead, and vice-president for the NZ Society of Anaesthetists.
Having assisted with dozens of births, it was only when she became pregnant with her first child in 2014 that she flipped her perspective on how we support pregnant women.
"I realised that there was an immense gap in factual information available for pregnant people in New Zealand. The spaces were filled by opinion and often reinforced by cherry-picked literature.  Things like 'your child is more likely to become a drug addict if you have pain relief in labour' or 'you're more likely to have a caesarean if you choose an epidural'," Morgan says.
Given the maternal mental health crisis in Aotearoa (suicide is the leading cause of peripartum death), which is often associated with guilt around birthing choices, Morgan saw an opportunity to create a resource that shared just the facts.
So she built a website called Your Labour Your Way to give mothers and mothers-to-be an unbiased, factual overview of the most common pain relief options available to New Zealand women. It doesn't under or overstate the risks. The resource is recommended to women by most DHBs.
"As doctors, outside of short and sharp appointments, we are fairly inaccessible to the general public.  There is an immense gap between what we would like our patients to know, and what we actually achieve."
Realising social media can be a vacuum for medical misinformation, Morgan also created an Instagram page to reach a wider audience, which at last count had an incredible 40,000 followers.
"It has evolved into a platform to address Covid-19 questions, conspiracies and misconceptions, both the disease [and] the vaccine. The positive feedback I get is incredibly rewarding."
Morgan took an unusual educational pathway to becoming a doctor. She completed a Bachelor of Science degree at the University of Auckland, before heading to Griffith University in Queensland for her Bachelor of Medicine and Bachelor of Surgery.
Five years later she returned to the University of Auckland to gain a Postgraduate Certificate in Clinical Education, which helps medical professionals become excellent teachers, and apply her knowledge to educating pregnant women to have empowered and positive births.
"I initially left the University of Auckland in 2005, knowing I was heading off to study medicine. I didn't envisage that I would return ten years later to study clinical education," Morgan says.
"The tools I learned during my postgraduate studies have helped me immensely with clear and concise communication, as well as enabling empathy and patience - examining my own privilege at every juncture."
In between, Morgan took on some highly demanding roles, including a rotation in intensive care in South Australia where she would often treat critically unwell indigenous patients with multiple organ failure, and a stint with NZ Air Ambulance Service, which sometimes saw her rushed to the Pacific Islands to transfer patients with critical injuries. 
Along the way, Morgan says she has been fortunate to have encountered strong, passionate and generous women who have served as great inspiration.
Morgan paid tribute to her honours supervisor Professor Michelle Glass for her expert guidance on discipline, integrity, patience and respect.
"More recently I would hold Dr Siouxsie Wiles as my greatest influence.  Dr Wiles' passion and skill for effective science communication has impacted not only Aotearoa but the entire world during the Covid-19 pandemic. I especially admire the way she patiently and clearly navigates complex concepts, making science accessible to the general population."
Morgan says her time at the University, which included writing a dissertation on hormones and Huntington's disease, undoubtedly laid a foundation for her future success.
"It is where I truly learned the importance of Ingenio et labore: (some) natural ability and (a lot of) hard work."