Nuwanthie is a global business founder, a company director, a former ballet dancer, a nature lover and is passionate about fostering young talent in our communities. One of the first students to study for a Bachelor of Health Sciences degree, Nuwanthie has returned to the University as Chair of the Auckland ICT Graduate School, an initiative established to meet the increasing demand for industry-ready ICT graduates.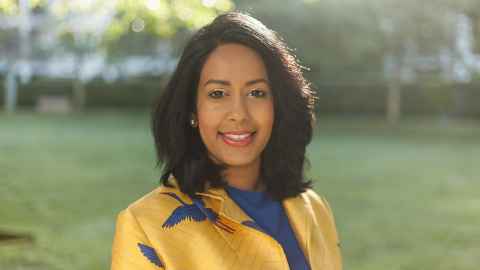 A spontaneous decision by her mother to buy a house while the family were holidaying in New Zealand established Nuwanthie Samarakone's first connection to her future home.
Born in Sri Lanka, Nuwanthie spent her early childhood in Scotland and Colombo and the prospect of moving to a new country at the age of 15 for the later part of her high school education was not something she exactly relished.
After completing her secondary schooling at Glendowie College, Nuwanthie says she took a chance enrolling in the University of Auckland's new Health Sciences programme that had just been launched at the Tamaki Campus.
"For many students wanting to get into Medical School that first year was very intense. But I had already decided I didn't want to become a doctor. I just wanted to get my degree and get out. I was very pragmatic about that."
A six-month graduate role at Middlemore Hospital followed by six months working in the private sector and Nuwanthie said she was torn between the two trying to decide her future career path.
In the end she opted for the private sector, securing a role at Southern Cross Healthcare where she remained for the next four years.
"I definitely think I made an impression when I was asked by then CEO Terry Moore what my career aspirations were and I told him I wanted his job! He ended up becoming a fantastic mentor and created a special projects role for me that fast tracked my career. He is a key mentor even today."
But Nuwanthie says that when she looked at why many of her peers were not progressing at the same rate as herself, she realised that while having an ambitious streak in her makeup gave her an added advantage, perhaps the lack of career development also created an opportunity.
"Don't assume the organisation knows what's best for you," is advice Nuwanthie regularly offers graduates. "You have to take control of it and manage your own career."
"But it also got me thinking about how I could develop a business consultancy that specialised in building talent pipelines for the future by designing and delivering schemes for early career graduates."
Nuwanthie backed her instincts and borrowed $60,000 from her father. Soon after her first business, ICE (Inspire, Create, Engage), an emerging talent consultancy, was born. After initially establishing the business in New Zealand, Nuthwanthie decided Singapore was the obvious hub from which to grow its global footprint. Today ICE has expanded into six countries employing a passionate team of people.
But in 2019 Nuwanthie decided to step away from the business to apply her entrepreneurial experience in a very different realm.
"National Party MP Paul Goldsmith introduced me to politics when I helped him on his campaign in 2011 and I decided to stand in the 2020 General Election. Next thing I know I'm door knocking as National's candidate in the safe Labour seat of Manurewa which I absolutely loved. The experience taught me a lot about communities, people, policy and campaigning."
While a future political career remains a distinct possibility, Nuthwanthie offers this advice: "expect the unexpected and learn to ride the wave. That has been my biggest insight into what it takes to get ahead."  
Take 10 podcast series: Nuwanthie Samarakone and Andrew Patterson; Building Young Talent and Positive Mentoring Relationships
University of Auckland 40 Under 40: Business Leader Nuwanthie Samarakone shares how her learnings as a young female leader led her to help other aspiring leaders do the same as well as how to take charge of your career future.