Head of Innovation, RBWM Digital - HSBC.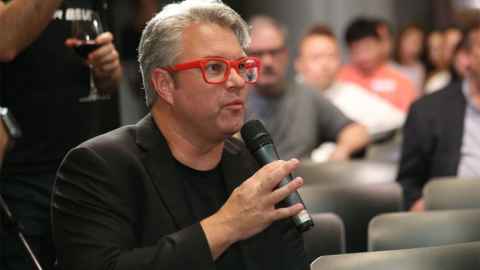 As a pre-schooler, Peter Dingle lived on a boat in the Bay of Islands, Whangarei and Auckland for two years before starting primary school.
With no fixed address and the ability to treat each day as an adventure, he credits the experience as being formative in his life.
"At the time, my dad was a boat builder and was the head engineer on the Spirit of NZ training vessel. I grew up around boats even helping with the building of them on occasions, and it taught me early in life that building anything really big is actually a series of baby steps."
Attending Massey High, a "rugby school" as Peter describes it, his sporting interests were directed more towards martial arts and unusually, ice hockey where he eventually gained selection for a NZ under 21 side that toured in 1997.
Deciding on a gap year to pursue his growing interest in the sport, it was off to Canada, the home of ice hockey, to gain more experience and to immerse himself in a game that only had a very limited following here.
Returning to NZ and eventually enrolling in a BCom he admits he was an average student at best until he discovered a new way of understanding the material he was being taught.
"I was pretty much a C student until I was introduced to mind mapping in a class I was taking, and that had an immediate impact on me. I realised that I could learn anything if I could map it on a page and using the process helped me to understand topics as a whole which led to a significant improvement in my grades, and my enjoyment of University."
He wishes he had been introduced to the technique much earlier in his schooling.
Starting what would become a 15-year career with Intel in 2001, the world's leading semiconductor manufacturer, beginning in Retail Product Marketing and eventually leading to senior Regional and Global management roles, Peter is extremely thankful for the rich experience that Intel gave him and the opportunity to develop a wide range of skill sets; particularly his creative side.
"I started out having to train retailers who were much older than me how hardware and software were going to revolutionise every aspect of our lives both personally and in business. I quickly developed a passion for technology and was given responsibility for building the demos that senior execs would deliver onstage at Global launch events."
Deciding he wanted to progress his career from middle to senior leadership, Peter undertook an Executive MBA and was named as an IVEY Scholar having a year earlier gained an Executive Diploma in Finance from Chinese University, Hong Kong.
Leaving Intel in 2014, a decision he describes as a "big pivot" led to an exciting role in a young venture capital firm as the creator of a successful Corporate  Accelerator program serving Hong Kong and Singapore based Corporates and launching 75 high-tech start-ups into funding rounds across multiple industries.
More recently this has to led to his position in early 2018 as Head of Innovation for HSBC Retail Banking and Wealth Management, and a passion for building Fintech solutions.
"In my role at HSBC, I'm very interested in new technologies and the implications they have to completely revolutionise so many aspects of servicing customers in faster and more effective ways. Many people agree that if the banking industry doesn't become more digital in the future, it risks being threatened by a range of disruptors who are only too willing to pick us off."
So at the mid-point of his corporate career, what does he consider his most significant learnings along the way have been?
"There have been four key learnings for me that I would share: Nothing is impossible, you must start with the end in mind, iterate, iterate, iterate and finally perhaps the most important learning: life is about experiences so enjoy the journey."