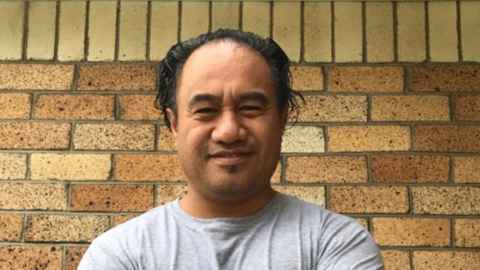 Just a few months after starting at Auckland's Sacred Heart College, the teachers at his new school were placing bets that Peter Fa'afiu would eventually become Head Boy.
Those bets would eventually pay off and provide an early clue about what the young Samoan student, who had arrived in New Zealand at the age of five years speaking little English, would go on to achieve.
But growing up in a household where money was tight came with its own set of challenges.
"As a child I don't remember seeing much of my parents. They were both factory workers and would leave very early and return home late. My grandfather looked after us as was often the case with many Pasifika families trying to earn a living."
With English as his best subject and having developed an interest in debating it was soon obvious that law was going to be his future career path. Gaining an A Bursary and a full scholarship Peter finished school on a high note enrolling in a BA/LLB; little realising things wouldn't exactly go to plan the following year.
"My first year at university didn't go at all well. I spent too much time partying, playing rugby and revelling in the freedom that you get that first year out of school. In hindsight I should have taken a gap year. However, I gained just enough marks to make me eligible for admission to study law under the Pasifika quota, but I was so disappointed with myself I decided to repeat the whole year and gain admission on my own merits."
It was to mark a turning point and a valuable life lesson about the importance of self-discipline that Peter says he has never forgotten. After a summer clerkship, where he quickly realised the practice of law wasn't for him, it was to be an internship with the Ministry of Foreign Affairs and Trade that provided the entree for his first major career break. It was a role perfectly suited to his interests.
"It aligned with my love of history and culture and the opportunity to represent your country made me feel very special. I was also part of a cohort of very talented peers and I enjoyed the competitive environment and the diverse nature of our work."
Spending three and half years in Wellington learning the ropes as a trade negotiator was followed by four years in Indonesia where Peter says he learnt to speak "passable" Bahasa.
After eight years with MFAT and feeling that travel was impacting his young family , it was a chance conversation with newly appointed CEO John Allen, who had just left NZ Post that led to a new opportunity with his former employer.
Appointed Head of Government and Community Relations for NZ Post Peter says his main role involved visiting local communities around the country telling them their local post shops or Kiwibank branch were about to close.
"I remember attending a Grey Power AGM in Invercargill where the President said I looked like a young Winston Peters coming to give us the bad news!"
Time spent working for the Tamaki Regeneration project as interim CEO at just 36, making him the youngest CEO of a crown company, was followed by a decision to set up his own management consultancy, Navigator Limited, which works with iwi, community groups, DHBs and Crown/Council companies.
"Every role I take on is about the greater good; this is influenced by my values and personal purpose of raising my kids to be highly productive members of society.  My parents were factory workers, I became a chief executive at age 36, so I can only imagine what my kids will end up doing!"