Founder & CEO of Karma Collective, Mentor me Fiji Foundation and Pop the Question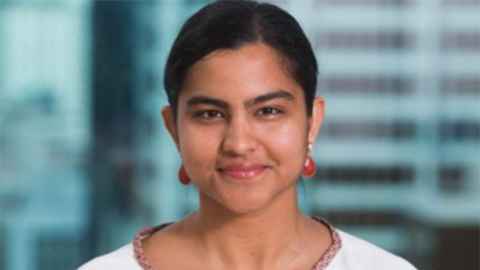 On her first day of kindergarten, Priya Singh vividly recalls telling her mother she didn't need to stay and that she was quite capable of going in by herself.  It underlines a strong independent streak from an early age which has become a hallmark of her personality.
She grew up in Fiji and moved to New Zealand in 2007 to complete her final year of school, before enrolling in a Bachelor of Commerce (Accounting and Finance) and Bachelor of Science (Applied Mathematics and Statistics) conjoint degree. Priya says she couldn't wait to get started.
"I have always been an intensely curious person who loves to learn. In fact, I loved learning so much while I was at uni I would often go along to random lectures just to satisfy my learning curiosity."
It's part of life philosophy that has underpinned Priya's success to date.
"Most people think that if you work hard you will be successful, but I genuinely believe that success comes from operating in a state of relentless curiosity and continuous learning."
Priya graduated in 2013 and joined Deloitte as a consultant, staying there for five years before moving to her current role at Fonterra where, at 29, she is the dairy giant's youngest General Manager.  She heads Fonterra's data science, business intelligence, process optimisation and robotic process automation roles. It's a multi-faceted position that Priya enjoys for its diversity.
"I'm very bad at sitting on a challenge and not doing anything about it so my current role allows me to approach traditional organisational challenges such as productivity, efficiency, predictably and risk management in innovative new ways."
But for someone so immersed in corporate life, it's Priya's social impact work that has become one of her key personal drivers.
"I've always been a very high empathy person combined with a restlessness to get things done. It was during a maths lecture when we were learning about deriving the wave equation when the existence of initial conditions and boundary conditions made me think about how different people in this world are born into an initial condition which goes on to define the boundaries of their life. This thought was like a revelation for me and it led me to thinking about how I could lift unfair boundary conditions from people who were born into underprivileged initial conditions."
"I have always been told I have the memory of an elephant, and in that moment I recalled an interaction I had with a young girl at Dilkusha orphanage in Fiji when I was much younger. I left the lecture and started to draw out plans for the MentorMe Fiji Foundation."
Establishing the Foundation in 2012 the organisation has been working with young girls living in Fiji's orphanages to foster education and development through a tailored mentoring program. In 2016, the Foundation was recognised as the leading organisation for women's empowerment in the South Pacific and invited to co-design a mentoring program at scale with the Commonwealth Youth Council for underprivileged girls across all commonwealth countries.
Another of Priya's initiatives, Karma Collective, uses technology to narrow the education and skilled human resource gap that developing world entrepreneurs face as a barrier to success and grass-roots economic development for their communities. Karma Collective deploys the skills, passion, and talent of young professionals in New Zealand to provide pro-bono consulting services to entrepreneurs in the developing world via a custom-built digital platform.
In 2019, Priya was named a double-nominee for New Zealander of the Year in two categories — Young New Zealander of the Year and Local Hero award.
Somehow, Priya also finds spare time to travel the world and write stories. She was appointed Airbnb's Ambassador for the South Pacific in the lead-up to the Commonwealth Games and writes fictional stories with strong female leads. Her first novel titled "Aria: On Purpose" was published in 2017 under her pseudonym, Grace A. Walt. In 2020, she is due to release her first children's story book called "Songs of Spero" which puts six Queens at the centre of a mythical world.
Surprisingly, when it comes to setting goals and planning her future, Priya says it's not her style.
"I don't have any goals for the future. A few years ago, the sudden death of a close friend was a reminder that tomorrow isn't guaranteed. I live everyday like it is my last and I believe this has allowed me to accomplish all that I have in these years. I don't have a plan for the future because I don't believe there will be one. Everything that I feel the need to do, I do in the present. It is the secret to my happiness and in some ways, my success."