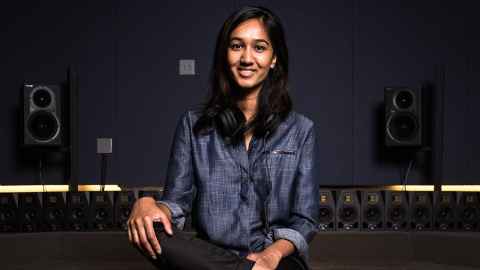 Music technologist Priyanka Shekar admits that as a child she was "shipped around" a lot by her parents.
Attending five different primary schools before she was 11, starting in NZ then moving to Melbourne then moving back to NZ where she spent time living in Pukekohe, Hamilton and Palmerston North before finishing up in Auckland, she says the experience was a mixed blessing.
"A part of me regrets that amount of change so early in my life and not being able to establish deeper friendships but the experience also taught me to make friends quickly and move on which turned out to be useful training for my later business career."
Priyanka says the experience also forced her out of her comfort zone, and taught her to remain agile.
As one of those kids who would literally give anything a go, there was always a long list of extra-curricular activities to take part in including ballet, ballroom and Latin dancing, speech and drama and gymnastics.
Excelling at maths, physics and biology, deciding on which career path to pursue became a challenge.
"I applied for Engineering, Pre-Med and Pharmacy, but in the end my parents guided to me towards engineering believing it had a bigger outlook. Interestingly, they could see the bigger picture beyond clinical medicine and were concerned about burnout in practicing doctors which, as it turns out, was quite prescient."
Graduating in 2007 with a BE in Electrical & Electronics Engineering with First Class Honours, Priyanka decided to undertake an MA in Music, Science & Technology at Stanford University. She secured a generous Stanford Fellowship and was also offered a Fulbright Award to cover her tuition costs. Here, she successfully developed the first open-source real-time software model of a popular vintage hardware audio effect, which makes the 'Harmonic Exciter' more affordable and accessible in modern music production.   
"Earlier I had never been sure how to integrate music with engineering but my time researching at Stanford's Centre for Computer Research in Music & Acoustics really helped me explore all the overlaps in how we as humans use audio for digital storytelling via entertainment, information, and immersion."
Priyanka was also accepted into the 'Ignite' programme run by Stanford's Graduate School of Business; a mini MBA for entrepreneurs.
"My mobile music app which literally turned your phone into a musical instrument was selected out of 140 pitches to be developed and I then led a six person team from idea to market. No one at the time would have imagined a phone could be turned into a tool for creative expression which in turn led me into the whole world of commercial music technology."
Describing herself these days as a music technologist "building the new digital renaissance" and having now gained experience in a range of strategic business and technology-focused roles as well as focusing on emerging technology and thought leadership, Priyanka says she is developing the next phase of her career building partnerships between all the rapidly innovating players in the entertainment technology industry from content creation to consumption.
"As Program Director at Real Industry, providing industry education, I was leading strategic partnerships between music, digital media and entertainment tech companies and top-tier universities. It brings industry R&D directly into the classroom for collaborative technology innovation. I also recently launched Stanford's first media tech start-up incubator Real Startup."
This idea of linking lifelong teaching and learning through one's career trajectory is something Priyanka believes should be embraced more widely.
"I try to think of everyone as both a teacher and student and I've been particularly influenced by leaders such as Oprah Winfrey, Barack Obama, Sheryl Sandberg and Eckhart Tolle. They've taught me that it's not just about working hard to explore and excel down a professional path, but that I need to be listening to a strong signal from my compass to really progress in the right direction."
As for biggest learning along the way, Priyanka says it's been about dealing with failure.
"It's taken me a while to get to this point, but I've come to realise that failures are actually some of the most powerful teachers, as long as you don't take them personally. I'm inspired by composer John Cage's 10 Rules for Students, Teachers and Life where he says 'Nothing is a mistake. There's no win and no fail. There's only make.' It's an invitation to embrace experiential learning if you can look past your ego."