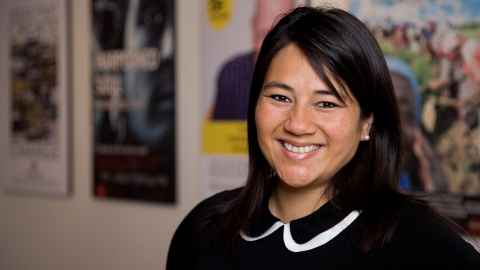 Growing up in Fiji until the age of 10, Qiujing Wong's early life was idyllic. Swimming, soaking up the sun and never being too far from the beach. Her paternal grandfather was the first of his generation to land in Fiji, and from nothing built a life for himself, his family and the country, including becoming the first Senator of Chinese ethnicity in the Fijian Government. The family's ties to the island nation run deep.
Completing her schooling in New Zealand and enrolling in a Bachelor of Commerce degree Qiujing admits she really had no idea what she was going to with her life.
"I had done the Young Enterprise programme while I was at high school and I was interested in entrepreneurship but beyond that it was all rather vague."
That was until she took a paper in her second year called 'Business in Society' delivered by Dr Ross McDonald. She says the course had a profound effect on her thinking and was instrumental in the creation of Borderless Productions, a social change and storytelling agency based in Auckland.
"I was incredibly engaged in the content and what I learnt from Ross has helped shape the philosophy and approach of Borderless. It also gave me the confidence to put together a business case and build a runway to launch it."
Borderless Productions turns a profit, employs a handful of full time staff, and a much larger pool of freelance film production and creative industry staff for its work, all the while improving the lives of the subjects of its films, campaigns and advertisements.
Qiujing says she has a passion to create positive, economic, social and environmental change by addressing some of society's most difficult issues through film. Over the last 12 years, Borderless has made its mark on a number of complex social issues including youth unemployment, violence prevention, environmental stewardship and wellbeing.
Borderless has also produced several innovative and award winning films and campaigns in New Zealand (and around the world) including On the Backs of Women, the story of three entrepreneurial Burmese women working their way out of poverty and the Auckland Humanity Project, a digital storytelling project designed to elicit stories of Aucklanders by asking one question every month.
"Social change is everyone's work so, when we tackle an issue, we don't see ourselves as the problem solvers - we see ourselves instead as bringing together the energy that is already out there, helping to crystallise thinking, develop strategies and then create ways of working. That ensures everyone feels involved in taking action and being a part of the solution."
In 2006 Qiujing was awarded the Carolyn Stolman Humanitarian Award in California for her work on A Grandmother's Tribe, a film and campaign with the goal to raise awareness and support for grandmothers in sub-Saharan Africa who raise the 14-18 million orphaned grandchildren left behind after losing their own parents to HIV/AIDs. This led to 11 homes being built, schools fees paid, a farm purchased for grandmothers and on-going commitment to education of children.
"It's a great example of the power of film to drive change. When people 'feel' they will take action. Freda Makhota from Kenya, one of the grandmothers who features in the film, is gentle honest and strong. She really inspired me to be tenacious when I would otherwise want to quit at various moments in my life."
In 2012 Qiujing was a recipient of the Blake Leader award from the Sir Peter Blake Trust for her work in establishing Borderless Productions and contributing to social change.