Lawyer, Journalist, Author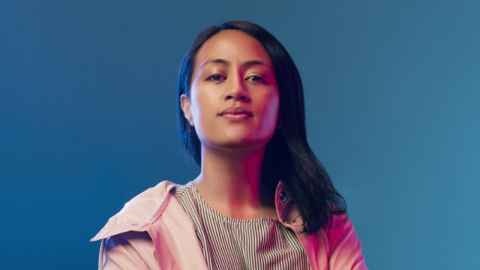 When a cyclone wiped out her family home on Savaii, Samoa in 1993 Reina Va'ai was just three years old.
The storm destroyed all of the family's possessions, including treasured photo albums, forcing her parents to choose between rebuilding their home or emigrating to New Zealand. In the end they settled on the latter, aiming to give their four children better opportunities; particularly when it came to education.
Not allowing their circumstances to impact their children's education, but unable to afford to buy them books, Reina's parents regularly took the family to the local library to help them to learn English.
"While my parents couldn't teach us, the librarians would help us and that's basically how I learnt to speak English. But at home my parents insisted that we speak Samoan which was a way of ensuring that we always remained connected to our culture."
Life wasn't easy and money was tight. Reina recalls regularly going to school without lunch. But despite the difficulties Reina was encouraged by her parents to aim high. She set her sights on achieving a scholarship to pursue university studies, eventually settling on a career in law.
Achieving both goals and being accepted into first year Law was a personal milestone for Reina and a reward for her hard work and determination.
"When I started at university I knew how lucky I was to gain selection and have this opportunity. My goal had always been to do something that would allow me to help others and at the time going into law felt like my calling after an experience that has always stuck with me. In my final year at high school we visited the Otara Community Law Centre. I recall a woman coming in one day who was a cleaner. Her job had just been terminated at short notice simply because she had brought her daughter to her cleaning job as she had been unable to find a babysitter. The experience made me realise how vulnerable many people are in situations where they are often unaware of their rights."
An opportunity to work for Judge Soana Moala, who had also arrived from Tonga at the age of 10 not speaking any English, would prove to be a turning point at a time when Reina had become increasingly unsure about her future career direction as a lawyer.
"Before my interview at Judge Moala's firm, I wasn't even looking to practice law. At that point my interests had switched to journalism, but I applied anyway because here was a chance to work for an incredible Pacific woman who I greatly admired."
Observing the other candidates as she waited for her interview Reina says her heart began to sink. She knew many of them by sight and in most cases their academic achievements far exceeded her own. Realising she was on the back foot she decided to adopt a strategy in the interview that would turn the tables on her career.
"During the interview I basically told them they probably weren't going to hire me given the calibre of applicants they had to choose from. While I answered all their questions honestly, I also told them all my weaknesses as well as pointing out I wasn't a top student. I don't think they quite knew what to make of me."
Receiving a call a few days later with the news that she had been hired, Reina says she was dumbfounded. Her strategy of 'extreme honesty' had paid off along with her humility and a self-effacing attitude.
It was while working for Judge Moala and starting a blog writing pieces about successful Pacific women that good luck would strike a second time.
Receiving a very unexpected call one day from Ngaire Fuata, the producer for Tagata Pasifika on TVONE, with an offer to become a reporter for the programme the whole family had grown up watching seemed too good to be true.
"Ngaire took a risk hiring someone with no experience in the media industry. She gave me the opportunity of a lifetime and guided me along the way. Whenever I think about the fact that she gave me not just a job but a career, I always get emotional. I've seen what a profound influence her generosity has had on me and I just want to share it and do the same for others."
But while Reina thought her move into journalism meant her days as a lawyer were over, her boss Lynn Hughes, the Public Defender for South Auckland, suggested she could do both.
"I never considered it was possible to have two careers simultaneously. Lynn taught me that you don't have to fit in a box and there's always room to pursue your passions. I'm so grateful for the opportunities that I've been able to chase, all because she believed in my ability to work in two very different careers."
In her latest roll of the dice, Reina has written a children's book The Inventor and directed her first documentary as part of the Daughters of the Migration series on Black Ferns Captain and Police Detective, Fiao'o Fa'amausili. She has also thrown caution to the wind once again, enrolling herself in a two year programme at Cambridge University in the UK researching the impact of the criminal justice system on Pasifika peoples; a subject that surprisingly has received very little attention.
Summing up her wide-ranging career to this point Reina is philosophical.
"I never thought that I would have the opportunity to work as a journalist on television, have my own column in the paper, practice in criminal law, write a book and then move to study at Cambridge University all before turning 30. It's funny because on paper it may sound like I've achieved a lot, but the reality is that I don't consider myself particularly talented or intelligent. But I think my superpower is my ability to deal with rejection. I just don't allow it to upset or deter me."