Richard Hobbs is general manager of Transpower's Strategy and Customer division. Through public documents, Whakamana i Te Mauri Hiko – Empowering Our Energy Future, and the Electrification Roadmap Richard has led Transpower's thought leadership to outline the key conditions for New Zealand to decarbonise its energy sector.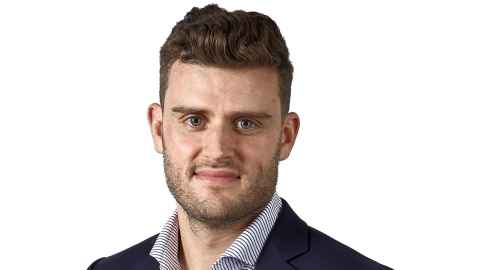 Imagine a future where nearly all of our public and private transport is electrified.
This is a scenario Richard Hobbs thinks about all the time.
"We are on the cusp of a pretty significant transformation in the energy sector," he says.
"Clean energy technology is progressing at breakneck speed and costs are coming rapidly down the cost curve. "
At the 2020 Infrastructure New Zealand conference, Richard was awarded best keynote speaker for his presentation on decarbonising transport and how and why we need to urgently increase our uptake of electric vehicles. 
"Electrifying our transport system will be very beneficial for our environment and consumers," he says.
"And in the not-too-distant future, the total costs of owning and operating electric vehicles will be much cheaper than petrol alternatives."
It was while at the University of Auckland that Richard first learnt from Senior Lecturer Ross McDonald in the Management Department how business could solve important global issues such as extreme poverty, climate change and environmental degradation. 
"I think that the University of Auckland taught me fundamental critical thinking skills that have served me well in all aspects of life, not just in business.
"It was through the University that I learnt to apply rigorous, evidence-based approaches."
Richard learnt more about the energy sector while studying for his MBA at Oxford University, where he was top of class in energy markets and political economy papers.
 "I realised I had the potential to be an influential energy sector thinker."
He then held roles in Australia as a management consultant at the Boston Consulting Group focusing on the utilities and energy sector.
"I worked with some of Australia's largest energy companies on strategic and operational projects as they navigated and embraced the transition to a sector with increased renewables."
Richard will be returning to the Boston Consulting Group in January 2022 and will lead its energy and climate change & sustainability practices in New Zealand.
He also worked as an investment manager for Spark Infrastructure, where he led analysis on the infrastructure investment fund's $180 million purchase of a 120MW solar farm in New South Wales.
And then in July 2019 Richard joined Transpower and is now responsible for developing and implementing Transpower's strategy to enable the delivery of the highly renewable, low-cost energy vision outlined in Whakamana i Te Mauri Hiko. He has kick-started some large-scale strategic projects, including Net Zero Grid Pathways, to enable New Zealand to achieve increased electrification and 100 percent renewable electricity.
Richard also leads Transpower's customer team and under his watch Transpower has signed contracts to enable the connection of $1.4 billion of infrastructure, including a new wind farm, geothermal power plant and electrified rail network. He is actively involved in enabling electric vehicles, electric process heat, hydrogen, data centres, large-scale solar, batteries and other leading-edge developments in New Zealand.
Ask Richard what he has learnt in his career so far and he says "that business is more about people than 'facts' or 'the right answers'". 
"Positive business change can start with a good idea, but the key lies in people buying into the idea and being motivated to implement it."
Richard has also led Transpower's collaboration with EECA and South Island distribution companies to replace coal boilers with electric boilers, biomass boilers and heat pumps.
"I have a deep passion for creating good in the world," he says.
Looking to the future, Richard would like to be a CEO of a large energy company or an advisor to large energy companies, where he can assist with being impactful in decarbonisation.
"I want my work to assist with mitigating climate change and ensuring that the world is a better place for future generations to inhabit."