Founder & Managing Director, Hougarden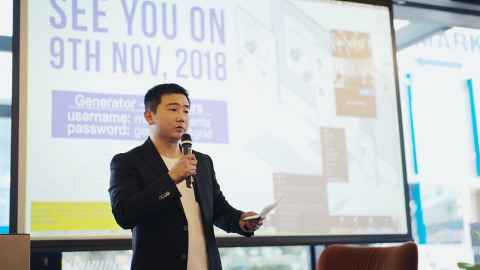 Growing up in China and moving to New Zealand when he was 19 was a "culture shock" for Sam Yin, but not one that completely overwhelmed him.
It was 2002 and with limited English Sam enrolled in the Bachelor of Business and Information Management (since discontinued); a qualification designed to combine business with what was then an emerging IT sector.
"I quite enjoyed the BBIM papers. I found them very useful and practical, particularly the integration of business and IT."
After graduating in 2005 and securing a role as an accountant it soon became obvious that the accounting profession wasn't really going to be a long-term career option. But while working as a consultant for an accounting software company, Sam switched to software development and found his niche.
A passion for real estate began to emerge at the same time.  Sam had several friends in the business working as mortgage brokers and agents.  They regularly complained about the challenges Chinese-speaking buyers experienced accessing information on the property market.  Sam was quick to spot the opportunity that this problem presented.
Finding some space in his garage to establish a small home office, he began researching and developing a real estate platform specifically for the Chinese market. In 2011 he launched Hougarden.com which soon became the number one online marketplace for Chinese-speaking property buyers in New Zealand.
Since then, Hougarden has expanded - opening a research and development centre in China in 2016 to focus on initiating future online projects.
"Hougarden is evolving to become what I term a 'super-platform' that gives users information about properties for sale, rental listings and other relevant information, but increasingly we're also moving into other areas such as motor vehicles." In 2018 Sam launched a joint venture with media company NZME.  OneRoof is an English language real estate platform that will be familiar to Herald readers.
Next year will mark 20 years since his arrival in New Zealand so is he surprised at where he's ended up?
"I'm the first to admit I wasn't very entrepreneurial to start with but I've become more of a risk taker as I've gone along. Now I employ 45 people so I think a lot about the responsibility that goes with that in creating a business that is going to be around for the long term.
My biggest learning has been understanding the online market here which is quite different to Asia. New Zealand is a quality market rather than one based on quantity. I've had to learn how to leverage my advantage in this market to find a niche; even though that niche is probably only around 150,000 people."
Acknowledging the role his parents have played in his success, Sam says that in addition to always encouraging him to chase his dreams they have also helped to keep him grounded.
"My mum has been a successful business leader. She taught me how to look at the big picture and to become a visionary person. My dad demonstrated that action speaks louder than words. He is such a traditional, hard-working person with strong attention to detail. Both of my parents gave me the vision to start small, build up gradually and dream big."