Sara-Jane Elika is a media consultant and director of ECG Consulting Group, creating solutions for business sustainability and cultural engagement in both the private and public spheres. She specialises in Indigenous leadership, the Pacific economy and media management, has worked in the music and television industries and is involved with several charitable trusts. Until recently, she was interim CEO of the Pacific Media Network and in 2017, won the Governance NZ Emerging Leader award.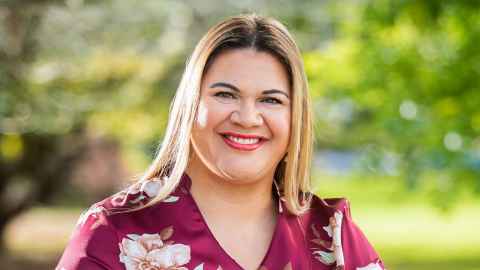 Sara-Jane Elika has big plans. Global plans. She wants a television show like Oprah and to make the consultancy group she runs with her husband Leaupepe Ta'ala Ralph "the Deloitte of the Pacific". She may not be joking.
"I don't know whether you should call it that, but I want to have an established consultancy that people come to when they want to know the views around the Pacific economy, the Asia-Pacific economy and Indigenous leadership."
The consultancy is a source of pride for Elika, who describes being self-employed for the past 15 years as "massive". It's certainly not her only accomplishment. Elika is a multi-tasker extraordinaire who utilises both her practical and creative sides. In her 38 years, she has packed in music, business, community, faith and leadership roles as well as being a mother to four, including twins.
It's a pattern that began in childhood. Her parents are educators – her father was a school principal for 30 years – who encouraged a work ethic with a lot of extracurricular activities that gave Elika "a little bit more exposure to the world and opportunities to see things in the greater context".
With a foundation in music, Elika was able to give full expression to her dual passions while studying. She completed a law and arts conjoint degree, then postgraduate honours in ethnomusicology.
It definitely made her "the different one" she says, but she didn't want to miss out on what she enjoyed and the University was able to accommodate her.
"There was flexibility for me that other institutions didn't really provide," she says. "And when I needed to work around any sort of clashes, I was able to get that support."
She also loved the study groups, which provided a network and a safe environment.
"That's something that I've kept going, that essence of having that core group that you can bounce ideas off in a robust way, but it's still a safe group to be able to do that."
As an artist, Elika was part of the all-female R&B group Pacific Soul, who won Best Pacific Island Album at the 2003 NZ Music Awards. She sang in jazz group The Artistry and has made three solo albums, winning Best Pacific Female Artist at the inaugural Pacific Music Awards with her first, Sara-Jane. She toured the Pacific and the US and put her experience to work project-managing the Parachute music festival in 2006.
She has worked in television and as a tutor at Music and Audio Institute of New Zealand (MAINZ), another area where her law and music training combined.
This multifaceted skill-set has led Elika to two more career highlights. First, as interim CEO of the Pacific Media Network, she negotiated to have the Network's Pacific Divas tour, the best of Pacific female artists, screen on mainstream Prime TV. She also led the Pacific Media Network's team of 70 through Covid-19 Level Four Lockdown.
"It was very, very intense, so I'm really glad that I've had the opportunity to be able to survive and come through that."
She is also the chair of Community Law South Auckland, and a director of charitable trusts Good Shepherd NZ and Failoa Famili, which both have a focus on women and girls.
Elika won the Governance New Zealand Emerging Leader Award in 2017 and says she has learned to put her hand up when opportunities arise. "It's best to put yourself out there and be prepared if they come along."
And that TV show? "I see it as balancing my creative side. I would love to be involved with other like-minded women in New Zealand where we can global thought leadership for Pacific people and those in Indigenous leadership positions."