Sarah Liu is the founder and managing director of The Dream Collective, an Asia Pacific (APAC) top 10 diversity and inclusion consultancy, which has empowered and equipped thousands of professional women into leadership roles. With Amazon Web Services Australia, Sarah has set up the #SheDares campaign to demystify careers in technology for professional women. She has represented Australia in the G20 Young Entrepreneurs' Alliance to discuss the future of work globally.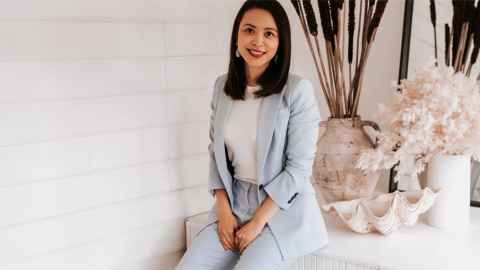 One of the turning points in Sarah Liu's life was in 2008 when she went on a one-year exchange programme called AIKOM (Abroad in Komaba) offered by the University of Auckland to Tokyo University.
"That year was transformational for me because it opened my horizon to what's possible, exposed me to diversity of thinking and it was a global melting pot that gave me a new sense of possibility.
"I honestly wouldn't be where I am today without that experience where I was challenged to push beyond my comfort zone from being in a completely foreign environment, foreign language and away from home, to having to be completely independent in my decision-making and build resilience from setbacks."
Sarah studied Japanese, psychology and media studies in Japan and came back to New Zealand her eyes wide open to carve out a new path for herself.
She graduated from the University of Auckland with a conjoint Bachelor Arts/Bachelor of Science and began working in the marketing and branding industry eventually leading and delivering branding strategies for some of the world's most recognised brands and entities including Revlon, Coca-Cola and Olay.
"I began my corporate career by climbing the corporate ladder and managed to become a Regional Brand Manager at one of the world's largest beauty companies by the age of 25. But I was confronted by the lack of development opportunities available for women in the workplace and the systemic challenges facing women in leadership."
This inspired her to start The Dream Collective, which has become the global company it is today shaping, influencing and creating a more diverse, equitable and inclusive working world.
In 2019 Sarah was recognised in the 40 under 40: Most Influential Asian-Australians list, Entrepreneurship category, at the Asian-Australian Leadership Summit. She has also been featured in the Australia Financial Review, The Australian, Yahoo Finance and many others for her work advocating to address the lack of gender diversity in technology companies.

She has set up the Together, She project in Japan, a daring annual project designed to bring change and real action to see true gender equality and inclusion in Japan involving leaders from Nissan Motor Corporation Salesforce, Adobe and Morgan Stanley.
 
In partnership with Aussie unicorn Canva, Amazon Web Services, Google, Datacom and Inc, Sarah has launched She Pivots, a free, upskilling platform designed to help women make "an unexpected career transition". More recently, together with Amazon Web Services, she has launched SheDares as the next free programme in the series, to equip thousands of women around the world to enter the tech industry. 

And there is no stopping Sarah. Her aim is to end gender inequality in her lifetime and "see the same number of men and women lead in our world".
Ask about her key to success and she'll say she has learnt from her setbacks. "Every time we overcame a failure and challenge it has taken our business to the next level. Every setback is an opportunity to pivot, grow and accelerate."
Another key lesson is to "aim to be respected, not liked.
"I think the ability to not care too much about what others think of you will be a superpower that will serve you well in the long run. We can care about other people without caring about what they think of us.
 "Don't aspire to be liked by everyone – it's not possible and it'll become a distraction. Aspire to be respected for who you are instead."