Artist, Lecturer - Whiti o Rehua School of Art, Massey University.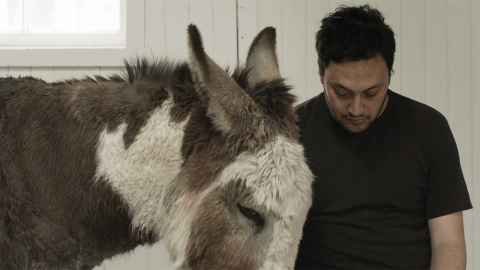 Growing up in Sydney's Northern Beaches in the 80s, the idea of undertaking tertiary studies was never something that Shannon Te Ao (Ngāti Tūwharetoa) ever considered.
Initially more focused on pursing his interest in music, it didn't take long for some of his high school teachers to spot his other artistic talents.
"I was a reasonably good student and I did manage to have some of my work included in student art exhibitions but at the time I never really considered it a long term career option. My family was very working class. No one had been to university but I do remember our home had lots of art produced by different members of my family."
After the compulsory OE around Europe, meeting his kiwi wife to be on route in Glasgow, it was back to New Zealand and time to decide on his future pathway.
"My wife Kate was very influential in my decision to go to university. Without her pushing me I don't think I would have ever thought I was capable of university study. In the end we agreed on a pact that I would support her financially through her studies and she would do the same for me."
For Shannon, the decision was to mark a significant turning point in his life allowing him to enter a world of artistic talent he never knew existed.
Successfully gaining entry to Elam and enrolling in a Bachelor of Fine Arts, the nerves soon kicked in as the first day of class approached.
"I was petrified on my first day, but it didn't take long to adapt once we got underway. I immediately felt Elam was like another version of an OE with so much to experience, though I found it harder to adapt to the conventional learning environment of lectures. I much preferred the more independent learning the BFA programme supported."
Graduating with First Class Honours, and deciding to undertake a Masters in Fine Arts five years later, Shannon's career path was to evolve in a direction he could never have expected during his high school years in Sydney.
"During my studies I put a post-it note at the back of my mind about the potential of working as both an artist and a teacher. It seemed like an option that would support my growth exponentially.
The more romantic notion of artists working in solitude, in their own studio is really not viable these days. Contemporary art practice is much more responsible to collaboration and making connections."
Securing a role as a Lecturer at Massey University's Whiti o Rehua School of Art has allowed Shannon to come full circle.
"I enjoy exposing students to new, and different models of practice. The tertiary environment offers all kinds of possibilities and so I'm invested helping students recalibrate accordingly. Consistently, I find Fine Arts students often go the extra mile for their work—it's part of wanting to make work with impact."
Shannon has established a body of work engaging live performance-based practice and moving image installation that address aspects of colonial trauma while reflecting on universal human refrains of love, loss and alienation. In recent years his works have featured nationally and internationally within a range of significant exhibition platforms.
In 2016 Internationally regarded Curator and Director of M+ Museum (Hong Kong) Doryun Chung awarded two shoots that stretch far out and okea uruotia (never say die) The 8th Walters Prize; arguably New Zealand's most prestigious contemporary art award. This biennially-awarded national prize aims to make contemporary art a more widely recognised and a debated feature of cultural life.
two shoots that stretch far out featured Shannon, barefoot and wearing a black T-shirt and jeans, reciting lyrics to a range of animals. In different scenes he speaks to geese, chickens, a swan, a rabbit, a wallaby and a donkey. The words are taken from a 19th century waiata.
"I've always been interested in things which aren't black and white, the spaces in between, so I want to think about how we really communicate with one another.  I wanted to reinforce the requirement to respect and be respected and think about how we might calibrate the language we use."