Shilo Kino is an award-winning author with Huia publishers. She is a freelance columnist with Newsroom, the Guardian and the Spinoff and is a news reporter at Marae TV. This year she is documenting her full immersion journey learning te reo Māori.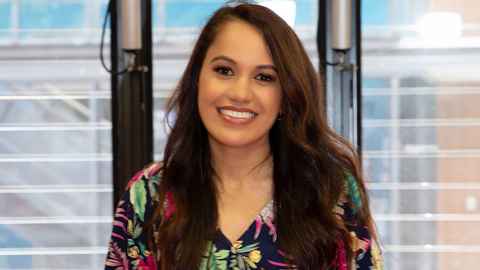 When Shilo Kino won the Young Adult Fiction Award at the 2021 New Zealand Book Awards for Children and Young Adults, it was a dream come true.
"I'm so humbled that a little pukapuka I wrote - The Pōrangi Boy - won!"
Shilo wrote The Pōrangi Boy when she was struggling with her own identity – "an identity shaped by the loss of my language, the loss of my whenua and the way our stories have been told through the eyes of non-Māori".
"It was a book born out of deep mamae but also with a hope that I could do something to influence, change, inform and empower."
But what surprised Shilo even more than winning the award, was how meaningful it felt being able to stand up at the awards and kōrero te reo Māori.
"Last year I could hardly speak any reo and was too whakama to even try. A wahine Māori said to me, 'how can you tell our stories and not speak our language?'
"At the time I had a big cry and was upset but her words have been the catalyst for change.
"So to be able to stand in front of a crowd and speak confidently from my heart in the language of my tīpuna means more to me than anything."
Shilo (Ngapuhi, Ngati Maniopoto) is undertaking a year-long full immersion journey at Te Wānanga Takiura O Nga Kura Kaupapa Maori O Aotearoa in Mt Albert, Auckland. At the same time she is co-making Back to Kura, a podcast which documents her reo journey.
Shilo grew up in Auckland and Waipu and says her Māori identity "was very much
shaped by what I saw on the news".
"Child abusers, gang members, angry protesters, the same old narrative told through the lens of the coloniser."
But equally, she started to see strong wāhine Māori journalists like Miriama Kamo and Mihingarangi Forbes on the screen and that stirred up feelings of pride, "even if it was just for a moment". 
She also watched her mother graduate with a Bachelor of Education from the University of Auckland in 1998 and walk down Queen Street in her gown and cap.
"This was a huge inspiration to me to follow the same path - especially since I watched my mother juggle looking after four children while pursuing an education at the same time."
So Shilo went to the University of Auckland and graduated with an Arts double major
in English and Film, Television and Media in 2013.  The next year she completed a Post Graduate Diploma in Journalism at AUT.
Today she is a freelance contributor to the Spinoff, Newsroom and the Guardian (NZ) and last year she was a finalist for Māori Affairs 2020 Journalist of the Year.
She is a strong Advocate for Maori issues and representation, justice and identity. She also speaks Mandarin after serving a mission in Hong Kong and is a member of the Asia New Zealand Foundation's Leadership Network for young leaders.
"I am living my dream of being a full-time author and writer and telling stories for a living," says Shilo.
"And my wish is that one day I can tell our stories in my own language, te reo Māori  - the most beautiful language in the world."