Shruthi Vijayakumar is a co-founder of the Emerge Institute, a new venture aiming to create a community of changemakers committed to reshaping the world. Shruthi is recognised as a Global Shaper by the World Economic Forum and a Global Changemaker by the British Council. She was a finalist for the Young New Zealander of the Year Award in 2013.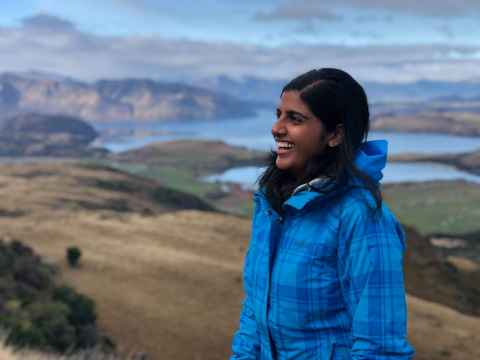 Reading Shruthi Vijayakumar's profile leaves you wondering if she ever finds time to sleep!
From presenting at the World Economic Forum at Davos, delivering the graduation address for her Oxford MBA class, diving with sharks in South Africa, to exploring the Amazon Rainforest, Shruthi's life certainly isn't boring.
A self-described global citizen, Shruthi's international mindset was shaped from a young age. She was born in Botswana, but her family roots are Indian, and when she was five her family immigrated to New Zealand.
Head girl at Mt Roskill Grammar, Shruthi was one of those students who was pretty much into everything, particularly causes that focused on social justice. When she managed the school's 40 Hour Famine fundraising effort it led to a trip to Cambodia that was to have a profound impact on her life.
"Seeing and connecting with people who suffered from extreme poverty first-hand was heart breaking, angering, challenging – and at the same time I felt deeply empowered seeing the impact we were having and could have through the money we had raised," she says. "It made me confront my privilege and instilled a deep sense of duty to contribute."
Returning to New Zealand in 2010 Shruthi began a Bachelor of Arts degree in Economics and Politics.
"My degree in politics certainly challenged my thinking," she says. "I remember being exposed to so many perspectives and theories about how we could see or make sense of our world and the many issues it faces. It developed my ability to think critically about our political and economic systems."
After graduating, a two-year stint at Boston Consulting Group provided plenty of exposure to the hard edge of life in the corporate world but Shruthi decided it wasn't the career path for her long-term.
"I wanted to spend more time doing things that inspired and allowed me to contribute. Money was not a motivator and I was fortunate to be able to take a few risks, so I moved to India, working with an education start-up at some of the poorest schools in the country. I soon realised the power of education and also social entrepreneurship – how business could be a force for change."
Gaining a World Economic Forum Global Shapers scholarship to undertake an MBA at Oxford meant Shruthi soon returned to the rigours of academic life.
"It was so precious to have a whole year to simply think and learn, to enquire deeply into the nature of business and capitalism and how we might transform it."

From there Shruthi helped co-found the Emerge Institute to create a community of changemakers committed to dismantling our current systems such as our focus on shareholder capitalism, and recreating them with a greater awareness and presence.
"Where I feel I can be most effective is at the intersection of education, the environment and transforming capitalism," says Shruthi
Learnings have come thick and fast in her career.
"One my biggest learnings has been to stay humble and be open to learning from all people and situations. Challenging managers, colleagues with diametrically opposing views, situations where I have lost a job, overstepped my own boundaries, really struggled, have been some of my biggest teachers."
While she remains optimistic about her own future, Shruthi believes Covid-19 is simply the first of many such shocks the world will experience.
"Be they climate change, economic shocks, mental health crises and the insidious rise of inequality, the cracks and holes of our current system are rapidly being revealed.
"I question how our current economic system that focuses almost exclusively on growth and treats nature as an 'externality' can create a thriving future for all. I want to help to change that."