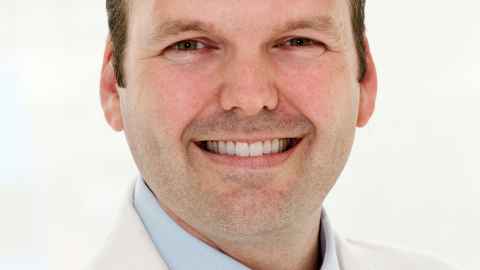 Simon Talbot openly admits he thought long and hard before deciding to pursue a medical degree.
It's understandable. Growing up in a medical family, his father was a heart specialist and his mother a nurse, he witnessed first-hand the intrusions on family life and personal time that comes with a profession well known for its demanding schedules.
Fast forward 20 years, he has no regrets about his choice of career and it's not hard to see why. As a leading plastic and reconstructive surgeon based at Brigham and Women's Hospital in Boston and Associate Professor of Surgery at the adjacent Harvard Medical School, Simon is part of an elite team pushing the boundaries of surgical innovation and possibility; particularly involving microsurgery.
"Unlike surgery on internal organs, everything I do is visible which means everything can be critiqued by both the patient and my colleagues. No two surgical procedures are ever the same which means you are constantly learning and analysing your performance and patient outcomes."
His pioneering work has seen him participate in seven full and partial face transplants, four upper extremity transplants, and a range of other surgical procedures that might have been considered impossible when he began his medical career.
"These transplants are an enormous undertaking generally requiring an operation of between 12 to 24 hours and involving up to 14 surgeons and 30 theatre staff in total. Then there are the medical and psycho-social preparations as well as the post-operative care and rehabilitation that can involve a further 70 or more health and support workers."
Completing his M.B.Ch.B. in 2001, including being awarded the Sir Carrick Robertson Prize in Surgery, Simon says it is the opportunity to constantly innovate new ideas and procedures that provide tangible improvements in medical care that really excites him.
Perversely, it has been America's recent involvement in conflicts in Afghanistan and Iraq that has been responsible for driving numerous advances in surgical techniques and procedures.
'While conflicts in the Middle East have been a tragedy on many levels, they have provided an important impetus to innovate our treatment of traumatic injuries."
In June 2014 Simon was the lead surgeon in the case of a quadruple amputee having surgery to attach two arms. Fronting a media packed conference alongside his patient Will Lautzenheiser, who lost all four of his limbs after a streptococcal infection ravaged his body, it was one of many high points in a career that has included a number of firsts.
"What I've learned is that people – relationships and teamwork – are the most important part of any work, research, teaching and discovery that you do. It's often all about how well you can collaborate that will determine success."
Paying tribute to those who taught him as a student, Simon is full of praise for the instruction and training he received both while he was at school and later at university.
"Kay Etheredge, my high school biology teacher at St Paul's Collegiate in Hamilton, was the inspiration for nurturing a fascination in biology and science; while Jonathan Koea, an Auckland hepatobiliary surgeon, was the genesis of my academic interests within surgery and an advocate for my career in medicine. Sir Murray Brennan, former Chair of Surgery at Memorial Sloan-Kettering Cancer Center, took me under his wing as I became interested in academic surgery. And Julian Pribaz, a per-eminent Australian plastic surgeon at Harvard, has been a motivating influence on how to succeed in this field."
One other person worthy of mention is twin sister, Sarah Wallace, who is also a doctor and now works as a pathologist in Brisbane. Simon and Sarah are both well aware that the start they received at Auckland was the inception of exciting careers advancing medicine.