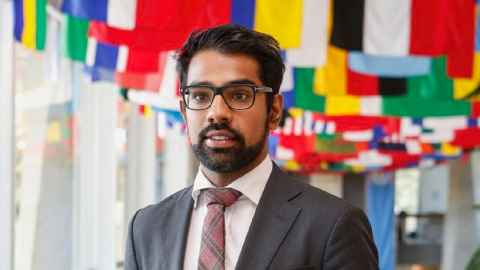 When Sudhvir Singh's parents, both medical doctors, decided to emigrate from South Africa in the early 1980s, they were inspired by New Zealand's opposition to apartheid and its progressive approach to societal issues. It was a decision they have never regretted and one which Sudhvir readily admits he has been a major beneficiary.
From an early age his goal was to "think bold", an approach which was apparent at Auckland's Rangitoto College, New Zealand's biggest school, where he excelled at sport and music and was named Proxime Accessit in his final year.
Opting to study medicine and named the most distinguished graduate of his year, having attained a GPA of 9 (A+) as well completing a BMedSci Public Health with First Class Honours, it seemed a promising career in clinical medicine was just getting started. However, despite going on to work as a medical registrar and completing the gruelling medical specialist examinations of the Royal Australasian College of Physicians, Sudhvir has instead opted to work outside of healthcare, choosing to focus on addressing the underlying drivers of ill health in society.
He joined the establishing group Generation Zero - a fledgling group of students and young professionals who were reimaging a world based on an entirely different set of principles. As the group's Auckland Director, he worked to tackle climate change through building support for innovative transport, urban planning and energy policies which culminated in the successful adoption of major public health, cycling and housing plans and the establishment of national zero carbon legislation.
Cited by Metro Magazine as 'the most influential member of the millennial generation' in 2014 and the 'Best New Political Force in 2013' and nominated by the NZ Herald in 2013 for New Zealander of the Year, Sudhvir was already making a name for himself as someone who would be the voice of a new generation of thinkers.
"While I really enjoyed my time at Medical School, it was a lecture in my first year by Professor Alistair Woodward on global health and climate change which really inspired me to take an interest in the subject. As a result I became very interested in sustainability and the impact that environments in which we live, such as transport, food systems and housing had on public health. I felt many of these issues were connected and I wanted to be part of bringing about change in this area."
Between 2008 and 2011, while completing his studies, Sudhvir helped establish and lead NZ's global health organisation for medical students, MSGA, which included field work and support for the 'Fiji Village Project'; a collaboration between students in Fiji, Australia and NZ, which continues today.
But it was joining EAT in 2015, a Scandinavian based non-profit start-up dedicated to transforming the global food system through sound science, impatient disruption and novel partnerships that Sudhvir says has allowed him to work at the cutting edge of public health and development. As the organisation's Director of Policy focusing on building relationships with local, national and international governments and translating knowledge to impact through innovative policy programmes, the role allows him to act as an international diplomat for accelerating health and sustainability win-wins.
Co-editing the Environmental Health chapter in one of the leading international textbooks on global health and being part of government delegations to the UN Conference on Sustainable Development (Rio+20) and the World Health Assembly further reinforce Sudhvir's growing contribution in the areas of public health and sustainable development, an area he plans to continue to work in.
"My plan is to keep testing ideas and learning from what has been achieved in the healthiest societies, such as in the Scandinavian countries, to develop solutions applicable to countries around the world." In parallel to his leadership role at EAT, he is dedicated to continuous learning and is completing a Masters in Health Policy & Economics between the London School of Economics & University of Chicago.
So what prospect is there that all this valuable learning being used to make a contribution to New Zealand in the future?
"I do want to return to NZ in due course. In fact, I feel like I have an obligation to return, particularly given my connection to communities back home.  There are so many areas where I feel I could contribute to helping develop more effective policies and systems at a Government level. We face daunting challenges with a rising wave of non-communicable diseases, like diabetes, and the parallel environmental challenges of a warming planet. Actions like improving what types of food people have access to, and how we get around our cities, have the opportunity to address both of these problems at the same time. I have the goal of ensuring such win-win opportunities are prioritised and taken up, both in New Zealand and abroad."