Syed Adeel Ali is the founding CEO of APIMatic, a software company that started in a PhD cubicle and today has users in more than 200 countries, with offices in New Zealand, Pakistan and the United States.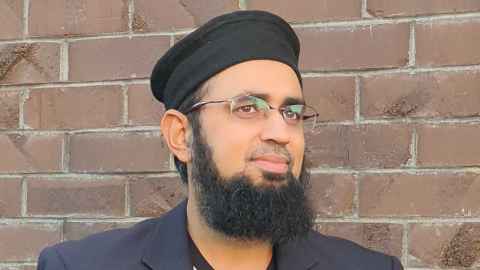 Adeel Ali never set out to found a global software company, or even to do a PhD. The Karachi-born engineer aimed to be a useful and kind human being and everything else followed.
Emigrating from Pakistan to New Zealand on a scholarship, he chose the University of Auckland over options in France, Germany and Korea due to the University's ranking, the Kiwi landscape and our love for cricket. Today he runs a global business from his Albert Street base in the Auckland CBD.
"If it weren't for the University of Auckland this business would not have happened. The
University has such a supportive culture for entrepreneurs, and set me up with the mindset of not re-inventing the wheel and to come up with solutions that complement instead of compete with existing technology," says Adeel, who holds a BCIT degree from NED University in Karachi and ME and PhD degrees from the University of Auckland.
It was Adeel's PhD supervisor Professor Partha Roop who realised Adeel's potential as an entrepreneur and guided him to take advantage of opportunities at the University to bring his research to market.
"I was happily busy in my PhD research when my supervisor introduced me to 'Return On Science' (a national research commercialisation programme run by UniServices). After a rigorous process, my PhD project was selected as a candidate for commercialisation and later evolved as APIMatic."
API stands for application programming interface. Put simply, an API allows two applications to talk to each other, "so every action you take on your phone, like sending a direct message or checking the score of the baseball game, uses an API to access and deliver that information".
Adeel's point-of-difference was creating a clever code generation engine, that takes in APIs and emits out code, along with documentation, in multiple programming languages. That code can be used to build applications for mobile, web, the internet-of-things and no-code/low-code platforms. 
"APIMatic generates the code automatically, which helps developers integrate their software effortlessly, so what would once take one week to accomplish takes around eight seconds."
Since it was unleashed on the market in 2014, APIMatic has grown rapidly as demand soars for increasingly sophisticated APIs on increasing numbers of platforms. It now employs some 40 staff.
Another driver of APIMatic's success has been sourcing programming talent in Pakistan, while maintaining a head office in Auckland, and a presence in Silicon Valley.
A global team does make for a long day for the father-of-two. It begins 20 minutes before sunrise for Fajr (the Morning Prayer), or earlier to take calls from Europe and USA. Prior to Covid, Adeel would clock up around 180,000km in the air each year.
Adeel says he is fortunate to have had incredible mentors in his journey, including Professor Roop, board chairman Chintaka Ranatunga, and his first boss Sayyed Yashaullah Afghan.
"Our first ever investment pitch was rejected, but Chintaka saw the opportunity, conducted an extensive market-validation exercise, and championed the idea to get us a much needed kick-starter."
"Sayyed recruited me while I was still an undergraduate, and provided a platform with freedom to unleash my potential. He taught me some lifelong lessons of empathy and how to deal with people to get the best outcomes."
Maintaining a Pakistani arm of his company is important to Adeel both culturally and commercially. The Islamabad office keeps him connected to his family and homeland, and makes the most of an emerging software industry.
"Understanding the Urdu language and the culture is very important when managing a team in Pakistan. And there is no match for being a subject expert. If you are truly great in whatever you do then there is no shortage of opportunities. The world embraces you regardless of your skin, gender or beliefs."